Sometimes — that is, some non-Covid time — when I'm in a city — looking at you, Washington, New York, and various other smaller, sidewalk-enhanced locations — I like to have a small (non-electric) scooter with me. This is especially nice in summer in Washington, where it's often possible to work around pedestrian routes, and where the humidity and heat are only enhanced by zipping through summer on wheels.
But my little scooter needed a bag. Topo Designs makes a great bike bag, and I really, really wanted to buy theirs, but it's way too big for my scooter, so I took inspiration from their slightly kooky triangle shape and made my own.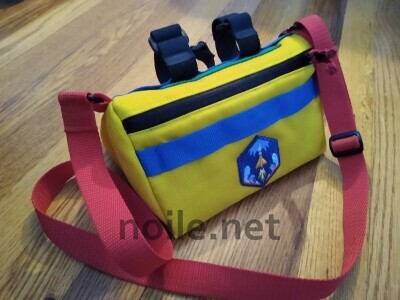 That strap is actually a bright bold red. Sadly, I'm someone who sews,
not someone who actually knows how to use a camera phone.