This post marks the beginning of "historic" posts from 2014, before I took a long break from blogging:
Once I'd made one tunic, I made another and then another, each time varying the pockets and and the neck bands.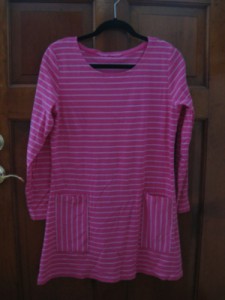 This is the second of four:  Pink isn't really my thing, but I can't seem to resist stripes, and this was a lovely, soft, cotton knit.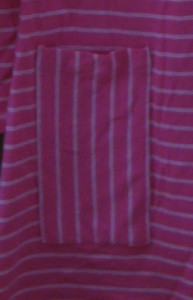 The pockets, in this case, are skinny and vertical, just wide enough to put a hand into, and they're set perpendicular to the main stripes.  I didn't want my stitches to conflict with the stripes on the fabric, so I carefully attached the pockets by sewing along one of the skinny white stripes.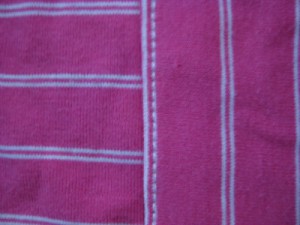 That gave the pocket attachment a much more deliberate look, and also made the white topstitching look more organic than it would have if run across the pink stretch.
Instead of making a neck band, I faced the neck edge with a strip of fabric, cut crosswise and then turned under.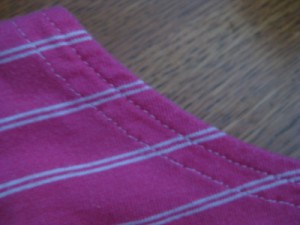 I didn't have a coverstitch machine when I made this, and you can see that I had some trouble making consistently-sized stitches on the second (lower) row.  Stitching near the bulk of the seamline is much more consistent.
The seamline between the facing and the tunic is to the right in the photo below; that strip is the facing, turned inside.  I like this finish better than simply turning the edge of the garment in and stitching; the facing strip gives a little more substance, and a more finished look.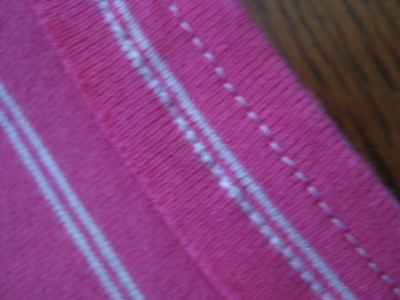 Because I didn't have the extra width of the band called for by the pattern, my neckline is larger and lower than the one designed by Kwik Sew.  Next time, I'd alter the pattern so that mine doesn't turn out this wide.
The Kwik Sew pattern is excellent; I did change up the shape of the skirt to make it flare in an "A" shape.   Construction is really simple .  .  .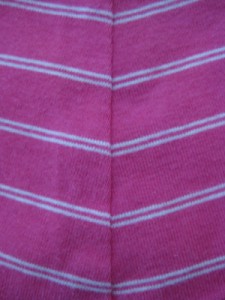 .  .  .  but skinny-stripe matching less so.  I was really annoyed that these weren't perfect, but perfection is hard to find!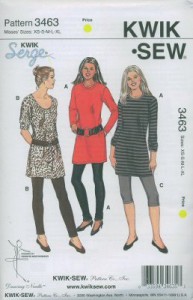 I hope this isn't one of the huge number of Kwik Sew patterns Big Pattern kills — it's fun and versatile, and a great stepping stone for playing around with various decorative elements.
See different versions of this pattern: