No, Noilette isn't expecting; the only thing she's planning to give birth to in the near future is a Master's degree.  But there is another new arrival in the extended family, and, on the theory that one can't have too many practical wiping-type items, I made up a set of bibs and burp cloths using Kwik Sew 3812.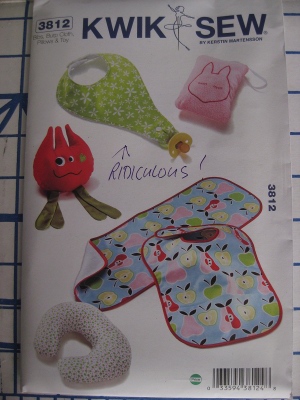 This is a rather odd pattern, and pretty uninspiring.  What exactly is that radish/turnip thing, anyway?  Something to gnaw on?  And the bunny pincushion?  You need a pattern for a square?  Don't get me started on the pacifier neck-wrapper — if your kid needs to have a pacifier tied to his body, maybe it's time to find out why and address the underlying issue . . .
I set my prejudices aside and bought the pattern anyway, because I have no idea what size a bib (or, for that matter, a burp cloth) should be, and it seemed better not to guess.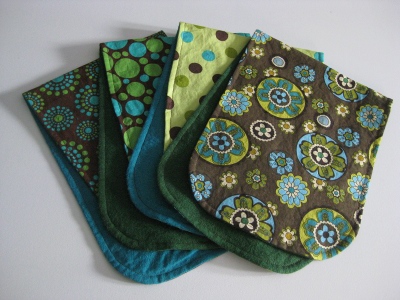 The burp cloths are quilting cotton on one side, and flannel on the other.  100% cotton, in all cases.  They will fade, of course, especially if washed in hot water, but polyester is just not friendly to baby skin.
Sewing the bibs was a humbling experience.  I used 100 % cotton toweling for the reverse sides — soft and loopy.  However, I never sew two such different fabrics together, and my lack of experience definitely affected the results.  (Would it have killed me to do a final press?  Well, maybe.) Anyway, I prefer the slightly wrinkled texture.  This is how they look just out of the dryer, and I sincerely hope no parent anywhere ever bothers to iron baby bibs.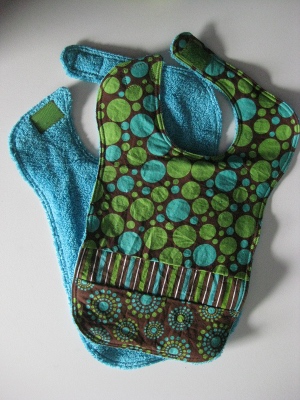 I did lengthen the bibs by about an inch — the width of the striped insert, actually.  I eventually remembered vaguely that bibs were better longer than shorter.
The pattern was perfectly fine.  The burp pads are generous, and lie nicely on the shoulder. I was most worried about the neck sizing, so it was helpful to have it for that.  Hook and loop tape allows for some adjustment, of course. I found (more or less) matching fastening tape at JoAnn, in the rather weird but colorful diapering section.
The bibs have a nice shape (which I warped a little bit by adding that extra length).  I particularly like the way they look when the fasteners are closed; the lines of the bib are maintained nicely.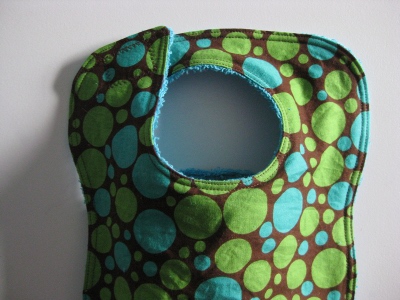 I serged all seams, and then topstitched and edgestitched, figuring that more seams are always better than fewer on utility items.
The reverse sides are all solid color; prints aren't everyone's cup of tea, and if Mama doesn't like these, the other side is a perfectly good option.  Admittedly, though, oatmeal is a lot messier in napped fabric than it is when mashed into quilting cotton.
The materials were deliberately chosen to be "gender neutral" (loathsome term). I don't think there's any reason why people who don't know a baby personally need to know whether they are male or female, or need some kind of color code to tell the difference. These colors were bright and cheerful, and that's what mattered.