So I bopped down to JoAnn's the other day and picked up a few Vogue patterns. Five, to be precise — that's at least two more than I've ever picked up at once before. I'm dreamin', big time!
The one I wanted most was Marcy Tilton's new pants pattern, Vogue 8561: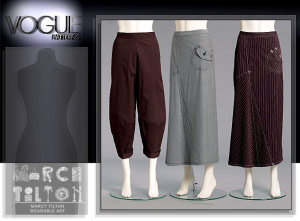 I love the kooky shape of the legs, but I have a couple of concerns. First, it's never a good sign when a pattern company can't get the pants to look as if they fit the model. In both Vogue photos (this one, and the one in the pattern catalog on a human model), if you look closely, it's clear that the crotch doesn't quite work. So I'm expecting some fit issues here. Other Tilton patterns I've used have been huge, so it will be interesting to work with one that looks much trimmer. I think I may make a couple of modifications, too, but later for those . . .
In the wake of my disappointment with the neck finish on Vogue 8536, this top looks pretty good to me, so I picked it up, too:
It's a Sandra Betzina, Vogue 8151.
So much for the practical stuff. The next two patterns are the stuff of fantasy. First, the much-noted Donna Karan, Vogue 1088: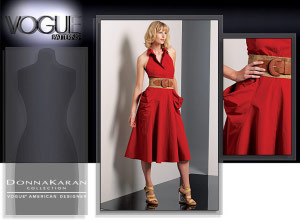 Could I carry this off? Well, probably not — but a girl can dream, can't she? I'm using it for exercise inspiration. Arms in this dress had better be buff!
And then there's this one, Vogue 1094: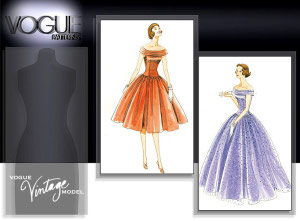 In Vogue's new pattern book, it's made up in black and white gingham. Yeah, I fell, and I fell hard. This means that not only the arms and shoulders need to be buff, but the waist needs to be very, very trim. No belt to help fake it. I have my work cut out for me — or, alternatively, I've got a really good fantasy going here!
The fifth one was Vogue 8485, specifically view C (with the bamboo handles):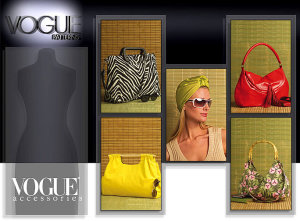 I want to wear dresses (well, maybe not the two above, but dresses in general) this summer. I'm going to need a generic bag that is industrial-sized, but will still look good with a variety of frocks. So I'm planning to make this one in black linen. I'll almost certainly lose the bamboo handles (ouch!), so I need to do some thinking about what would work instead. This view has a shoulder strap, too. It's practical, but not obvious. I like that.