Vogue 8536 – It's a Wadder!
Oh, dear. Knits and I are just not getting along. Today's failure is this top from Vogue Basic Design: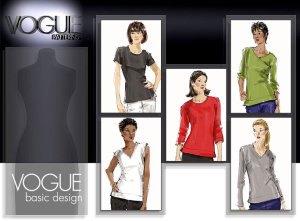 I made view D (the vee-neck), with the 3/4ths sleeve length from view B. In theory, this shirt is almost exactly what I'd choose for everyday wear. But alas, it was not to be. It's mostly my fault, too, though, although I really, really do not like the neck band.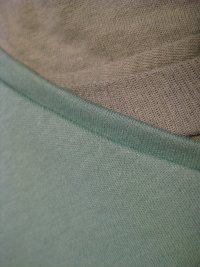 It's too narrow, and makes me think of neck trim on cheap clothing. (And it doesn't help that I muffed my stitching slightly in front, either!)
The sides end in slits, which I thought I'd like, but seem sort of bleah to me now that I've made the top. If I try this again, I'll just sew the seams all the way to the hem.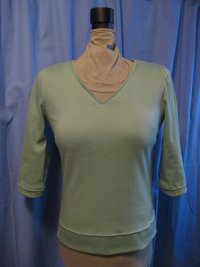 Although the shoulders seemed to be fine on my dummy, they're not right on me at all. (I know I'm overdue for replacing my dummy; those duct tape shells don't last forever, and mine is definitely showing signs of disfigurement, not to mention that I'm a bit re-configured myself!) I need to take the shoulders in by a full half inch on each side to get the fit I want.
On the plus side, the body is cut nicely, and I love the extra ease at the side bust, which don't show, but acknowledge that a little more accommodation is needed in that area. I think may be what Betzina calls "today's fit". I'm guessing that "today" means "you don't have the bust you did when you were 20!")
Which brings us to my nemesis: hemming knits. After considerable experimentation, including using iron-ons for support, varying stitch lengths, fiddling with basting methods, etc., I tried two other methods for this top. They worked great on my sample pieces; on my top, not so much.
For the sleeve hems, I used twill tape under the cut edge of the fabric, basting it in place to keep the knit from stretching. (How desperate can you get??) Then I used a 6.0 double needle for the stitching. That worked pretty well, but not perfectly. I ended up with a slight tunneling effect that I wasn't able to get rid of while still keeping enough tension in the thread.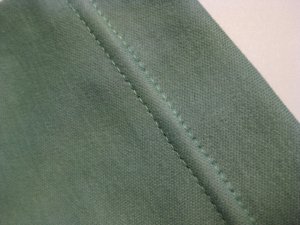 It looks a little like trapunto, and I kind of like it. After experimenting some more, I did the hem without the twill tape, but with careful basting. All looked well under the machine foot, but I noticed that I was getting a few skipped stitches. My new needle wasn't the cause, so, on a whim, I slowed the speed of my machine down to nothing, and that solved that problem.
Stretched out on my dummy, the hem doesn't look awful (if you don't mind that trapunto effect), but lying flat, the hem bubbles. It's just not right. Mr. Noile suggested that I get a very long strip of knit remnant and then keep trying until I solve this vexing problem; I'm going to do it. Next try: bias iron interfacing with single rows of topstitching. What have I got to lose?
Good thing this was a muslin. Grrrr.