Bunny has sung the praises of Walmart's faux leather, and has made some amazingly creative bags using it.    Though I'm not convinced that its competitors are a lot better, I admit that I'm no fan of Walmart, and I try to avoid shopping there.  That's not difficult to do, but several times a year, for one reason or another, I do find myself wandering the aisles in search of something I can't find elsewhere.  Last time that happened, I found this: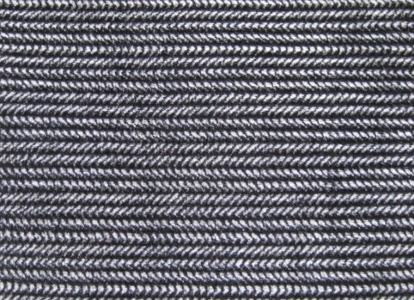 It's a woven, herringbone tweed corduroy.  Be still my heart!  From a distance, it looks like a deep, charcoal gray. This is my dream fabric (sad, I know — I must have been imprinted to corduroy when I was too young to resist).
I couldn't believe it when I spotted this out of the corner of an eye while power-walking through the store.  It's all cotton, from Pakistan, and was $4.47 a yard.  Next fall, it's going to be, I hope, a favorite pair of pants, and maybe trim on a pair of Au Bonheur jeans.
Several years ago, Walmart pulled fabric from most of their stores.  So many people complained that they've now begin carrying material again, along with a selection of notions, and an expanded craft inventory.  Walmart's prices are one-third to one-half those of JoAnn; the flannels are thicker and better quality, and Bunny's synthetic leathers are much nicer than any I've seen at JoAnn.  However, the notions and fabric selections are extremely limited at Walmart; it would be awful if it were the only local source for these goods.
Walmart's cotton wovens are, generally speaking, nothing to write home about, and our local store, at least, has very little of interest in the way of knits.  Stock is very  much a hit-or-miss proposition; it's like a consignment shop, in the sense that  it's best to buy what you see immediately, since it may never return.  I'm sure that some inventory is made to order for Walmart, but suspect other items are mill ends; oddly, it seems that Walmart does a far better job of quality control than JoAnn, even for what look like remainders — go figure.
The last few pieces I've bought at JoAnn were also produced in Pakistan; it's likely that the same factories turn out goods for both companies.  That's how it works in China, and it's probably reasonable to assume that Pakistan follows the same model.  I'm not thrilled abut buying from either country (anymore than I am about shopping at Walmart), but avoiding doing so has become nearly impossible.  It's also getting more and more difficult to find anything interesting stocked locally (except at the crazy, unpredictable, and eclectic JoMar), so I end up feeling grateful for the occasional treasure, like this cord.  The old days, they're not coming back; it's a case, maybe, of adapt or die.