Vogue 8771 – The Sweats Version
I'm supposed to be sewing my Minoru jacket, but other things have taken precedence, and I still haven't gotten to it.  Fortunately, the sew-along is moving at a relaxed pace, so I'm not out of time quite yet.
In between some critical house projects, I did manage to sew up this weird and wonky tunic.  I'm desperately searching for some alternative to rectangular sweatshirt tunics to wear around the house.  I live with five toddlers cats, so I need some serious, indestructible shirts to loll about in.  This looked as if it might fit the bill, and I knew it would make up in less than an hour.  My assessment was right on target.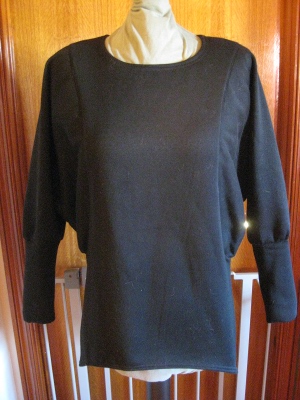 I don't think this is a flattering style on anyone, although doing the front panel in a contrasting color might help.  (So would having the proportions of the women in Vogue's illustrations, which I've never seen on a living person  It's always a bad sign when the pattern company only shows a pattern in sketches, with no photos.)
Back view: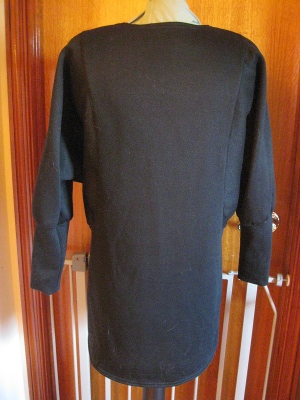 The full sleeves exaggerate the width of the top, and make it look clumsy and super-wide.  For wearing comfort, this is excellent.  For style, not so much.
The sleeves gather into the gauntlet-like cuffs, which run from the elbow to the wrist. (The sleeve is unhemmed here; I was still making up my  mind about the length.)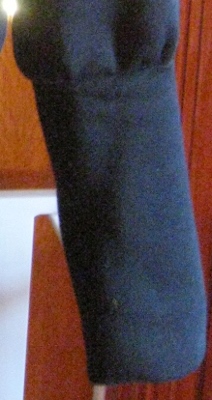 I actually think this is very practical for a wear-around-the-house, utility garment.  The top is nice and warm, but the fit is so close along the lower arm that the sleeves stay well out of the way when performing domestic tasks (or sewing, for that matter).
The "tail" on the tunic is very long, but the front isn't quite long enough — when it rides up, as it inevitably does when worn, it neatly arcs over the lower crotch area on my leggings.  This is fine at home, but perhaps not the effect anyone would prefer when running around in public.  The rear hem length does a nice job of making leggings respectable, though.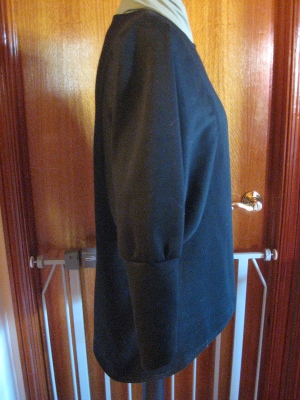 This pattern is meant to be sewn in something drapey and fluid.  I didn't do that.  Instead, I used some black sweatshirting I'd picked up at that "craft"  store that sells fabric, because sweats were what I needed.
Although it's priced at $13 per yard, this stuff is the nastiest sweatshirt fabric I've ever seen.  My local JoAnn stores have replaced their sturdy but wearable 60/40 cotton/poly sweatshirting with this dreck, and it's awful.   I did realize, to my horror, that it was almost all polyester  before I bought it, but, hey, it was for knocking around the house, so I figured I could live with that.  What I hadn't counted on were the sparkles (yes — sparkles!) in the material, which I assume are all the hard plastic bits that give it a truly awful hand once it's washed.
Do.Not.Buy.This.  Even at steep discount!  It's worth — and I use the term loosely — four dollars a yard at best, but only if you're upholstering plywood with it, or doing something similar.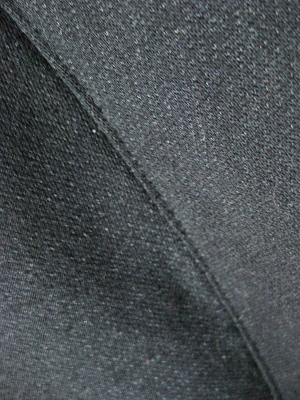 See the horrible little plastic flecks?  Yuck.  The alarming plasticity of this stuff made it poof peculiarly where the sleeve curve met the bodice.  That's my fault, not Vogue's, due to my choice of fabric.  I edge-stitched all around the sleeve seam, which reduced the plastic pouf a bit.
Because there was absolutely no stretch to my material, I cut the size Vogue recommended (it's usually waaay too big for me), and used a smaller-than-usual seam allowance.  I also raised the neckline; I think Vogue's doesn't work very well, and makes the shirt look more droopy than drapey.
Would my result be more flattering if done in a lighter weight knit?  Possibly.  Maybe I'll give it a try.  I do like the cut of the center panel, but the unflattering sleeves, not so much.  Overall grade:  Meh.
(Ignore the baby gate in the background.  Did I mention that we had a houseful of toddlers cats?)