My Merrell "Primo Chill Slide" mocs are wonderful to wear when you want the warmth of a boot without the fuss.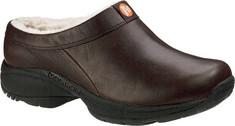 They originally came with a wool footlbed that was lofty and warm, just like the wool lining that fills the rest of the shoe. Over time the wool in the insole got crushed and flattened, and the shoes weren't a slipper-like joy to wear any longer. Though the liners are theoretically replaceable, I couldn't find them in stores, and trying to get them online seemed like too much of a pain, so I made my own.
Using super-thick felted wool, I made new liners. For the pattern, I traced the original insoles, and cut three pieces for each foot out of the felt. The original ones had a waterproof barrier to keep sweat from permeating the shoe itself, so I also cut a piece of thin, transparent vinyl to use as a similar barrier. The vinyl layer is second from the left in the photo below: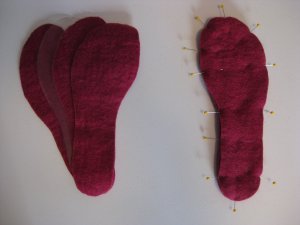 I used two layers of felt for the top of the liner, and put one beneath the vinyl. The idea was twofold: one, to make sure that the insole wouldn't slip while I was wearing it, and two, so that the stitching keeping the vinyl in place wouldn't be stressed too much while in use.
To make sure that I used them right side up (with that cushy double layer next to my foot), I stitched an "L" on the left liner, putting it where it would be least likely to irritate my foot. (Oddly, I couldn't find matching thread for this dark raspberry material, so I used one of Gütermann's rainbow threads.) I used a large zigzag just to hold the layers together; I didn't want to use smaller stitches, because that's a good way to perforate vinyl, and encouraging it to separate.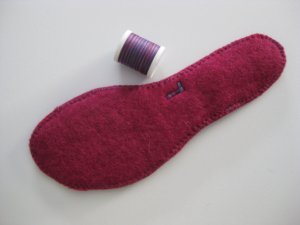 Here are my refurbished mocs (yes, I hate that orange and gray "M"!):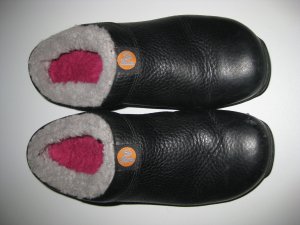 The wool isn't lofty like sheepskin slippers (or the original liner), but it is toasty and very comfortable. Incidentally, I found this extra-thick felted wool in a bin at Michael's; two pieces did the trick. (The choice of colors was really good, too — including a whole range of teals/greens. The wool was was pricey, though, I think about $3.50 a piece — smaller than 8.5 by 11 inches — so the by-the-yard price was ludicrous. Not bad for a pair of new innersoles, though.)