Here's my storyboard for the PR Mini-Wardrobe Contest: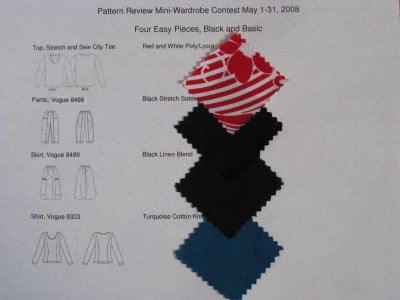 I went for the two tops, two bottoms option. The first top is Stretch and Sew's City Tee, the long-sleeved version. This should be interesting — it has a built-in shelf bra, and I'll be using power mesh for the first time. This pattern's been hanging around for a year or two, and I'm glad to finally have an excuse to use it.
My Vogue 8499 muslin turned out so well that I'm really eager to make another pair. They'll be very different in stretch cotton sateen. I'm not quite sure what to expect, but I'm sure I'll like the results. The "stretch" will be largely irrelevant, since the pants are so full. This particular fabric has very little stretch and a nice resiliency, so it should work well and be very nice to wear.
The Vogue skirt is less of an experiment: the black linen-like fabric will give it a different look from my first version, but it should feel much the same to wear.
I'm a little dubious about Vogue 8323 — not the pattern itself, but the fabric I've chosen. We'll see how it works up in one of those non-lycra cotton knits. (Got to use up that stash!). I cut out the cowl version of this shirt last summer, and didn't quite finish making it. Today or tomorrow I'll finish it as a warm-up to doing this new view.
There's nothing really exciting here, but four good pieces to give my wardrobe a boost. The fabric and notions are sitting on my cutting table, ready for May 1, when we start our engines!
Note: There's a typo on my storyboard — that pants pattern is 8499, not 8397. Correction as soon as I can manage it. This poor storyboard went through a few revisions, and I missed the old pattern number when finalizing it. 4/30/08:  Corrected storyboard added.