New Look 6483 – Woven Tank
I'm desperately looking for a top to make for PR's Mini-Wardrobe Contest. Marcy Tilton's new tee shirt (Vogue 8497) was on my story board, but I haven't yet worked out the issues I wrote about last week. Since we're only a week away from the contest start, I went for something super-simple, and made this New Look tank.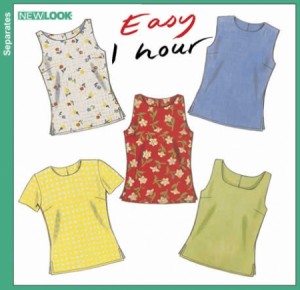 I made view D (the green one on the lower right). The fabric's a lighter weight linen; I made the facings of a poly-cotton I had on hand.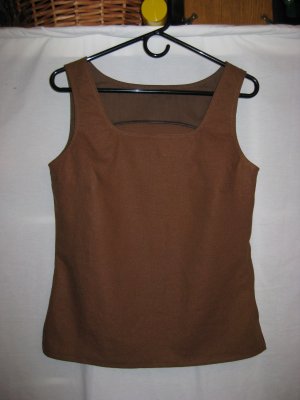 I like the neckline very much; it turned out very well, and it fits nicely. It's designed with a slit in the neck in back, which closes with a button. I dislike these closures, so I eliminated the center back seam, and added a zipper to the left side seam.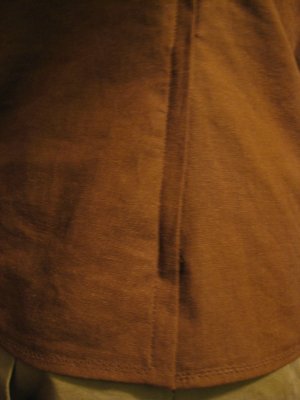 Because there are small vents at the bottom of the tank, I inserted the zipper so that the opening is toward the hem, making a neat placket insertion.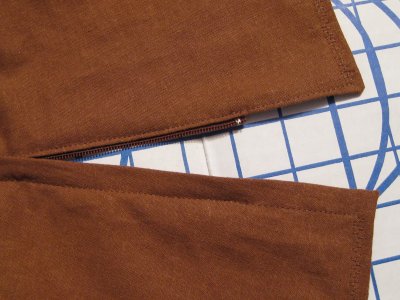 The zipper stops at the same point that the vent begins on the other side, so there are still vents on each side of the tank. My machine doesn't have fancy decorative stitches, so I used a crosshatch pattern to finish the neck, armholes and hem. Everything looks fine, but it just doesn't send me. It's also not right with Marcy's skirt (Vogue 8499) either; in fact, both it and the skirt look frumpy when combined. A plain old sleeveless cotton tank — a snug one — looks a lot better with Marcy's skirt. This is crucial; that skirt is on my storyboard. Sigh. I guess it's back to the drawing board. Eight more days — should I panic yet?