A couple of years ago I cut out these pants and sewed them mostly together at the home of my in-laws.  (This version is the one on the right in the image below.)  Then I came home and, well, put the unfinished project in a safe place.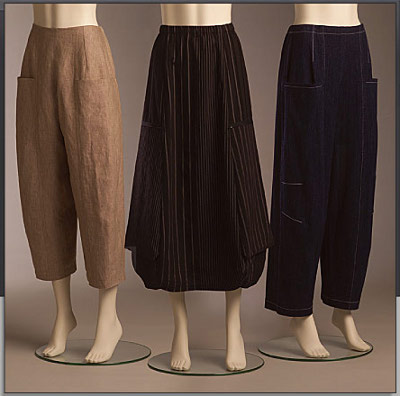 Thanks to a bunch of re-organization that's going on right now at Chez Noile, I re-discovered them, and have attached the waist band facing and finished them off.
Since first cutting these out, I've vowed to wear clothing that fits my body, rather than shapeless things that just overwhelm me, so this isn't something I'd  necessarily either be sewing or wearing now.  For one thing, they've got something of a granny tush, thanks to the elastic back waist: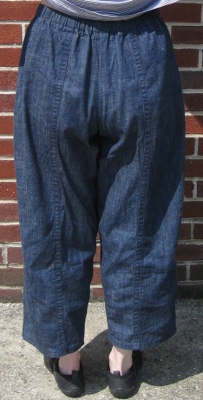 These are the smallest size in the envelope (8).   I'm theoretically supposed to wear a Vogue 12.  Riiiiight.  They billow all over, and definitely have a granny tush, along with an over-all "mom jeans" look when made in denim!   So beware:  This pattern runs large, very large.  It's designed to be roomy.
Also, note the length — they're just to the ankle on short old me (5 feet, 2 inches), but they don't look cropped at all on the pattern photo, do they?  That's because Vogue put them on tippy-toe dummies to make them look elongated, and to change your perception of the proportions.  Thought they're long on me, they'd be quite cropped on a tall woman, and noticably short on a woman of medium height.
However, I recently  made a one-day round-trip drive to Brooklyn (on a weekday!  baaad idea!)  and spent more than two full hours travelling ten blocks in lower Manhattan on my way home.  Sitting interminably, and virtually immobile, in my little car, I was delighted that I was wearing clown pants with a granny tush.  I couldn't have been more comfortable.  So there's a time and a place for pants like these, and that was it.
The front pockets are fun, and this garment's best feature: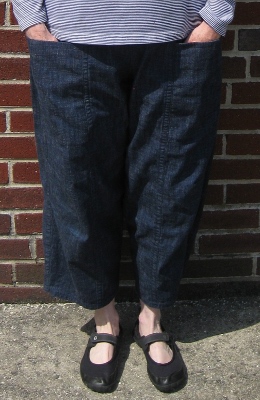 The elastic back waist does make for the fastest rest stops ever.  No muss, no fuss, no bother.  That is, of course, if you're not gridlocked in lower Manhattan.  These are super-comfortable pants, and nice and airy when the weather is over 90 degrees, and even when the fabric is a light, but firm, denim.
If I ever make them again, I'll take in the legs as well as the tush; there's just a lot more fabric there than is really needed, certainly for style, but even for comfort.  This is the third time I've made these pants, but I'm so over this kind of fit .  .  .  it's time to celebrate my shape, not hide it.  In size 8, these fit me, but this is not a flattering look!
Related:
How to Carry a Baguette (Or Two) In Your Skirt
Vogue 8499 – The Skirt, In Black
PR Mini-Wardrobe Contest: Vogue 8499