Nadine, the original designer of this garment calls it a capuche-écharpe, or "hooded scarf".  But it's a whole lot more than that:    It's a hoodie (of a kind!);  a scarf;  a vest; a shawl; and maybe a bunch of other things, too.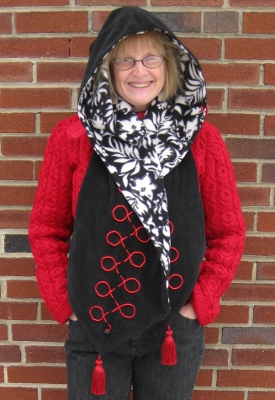 (Links to her site and the pattern are in the text below, and also at the very end of this post.  Scroll all the way to the end if this post gets too wordy for you.)  I love wearing it with jeans,  a wool sweater and/or a down vest.
Here  it is with the ends tossed over the shoulders like a scarf: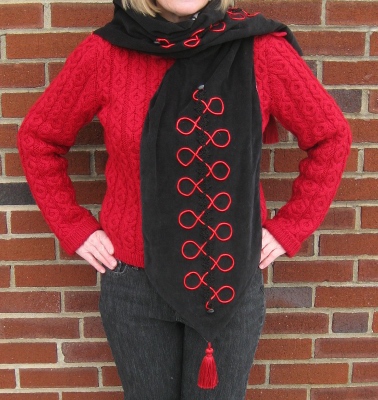 Here is the "vest" version: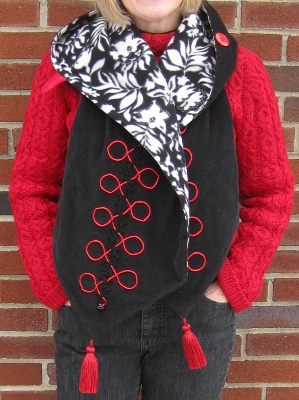 and the shawl version (sort of):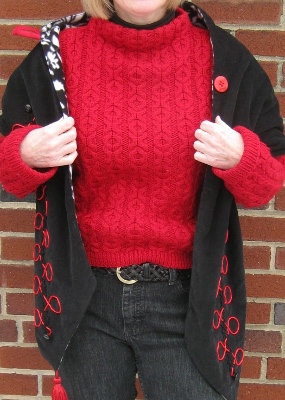 (I hate that belt buckle.  I'm looking at you, Orvis.  Why can't a girl get a decent jeans belt with a small, black buckle?)
Here's how the hood looks in back: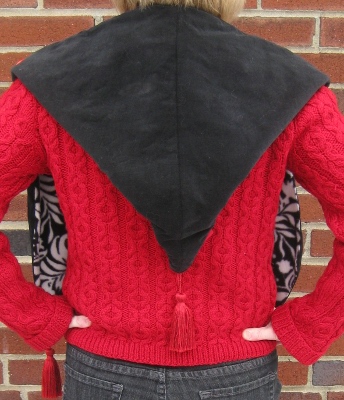 It can be worn as a poncho-like garment (mine is too wide to look good this way; Nadine's pattern is better):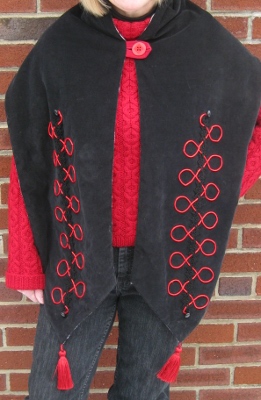 And here it is, on my dummy, in sort of a half-vest wrap (before embellishment):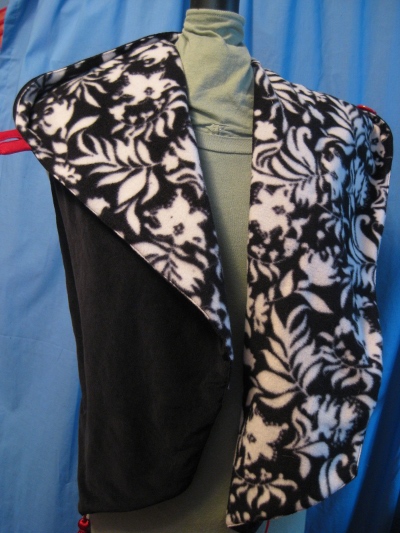 Mine is made in black no-wale corduroy, lined with a black and white botanic micro-fleece bought at Field's Fabrics a few years ago.  The button tabs are red no-wale corduroy (only three made the picture; not sure what's up with that):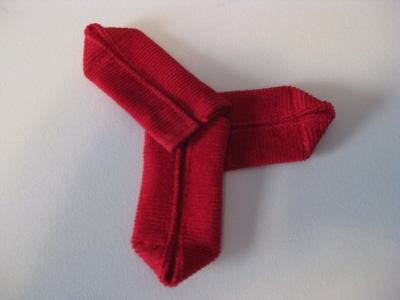 There's a seam down the center back of the hood, with three tabs and three over-sized buttons closing the hood.  Another tab and over-sized button close under the chin.
I think the large buttons on the corduroy are one-and-one-quarter inches: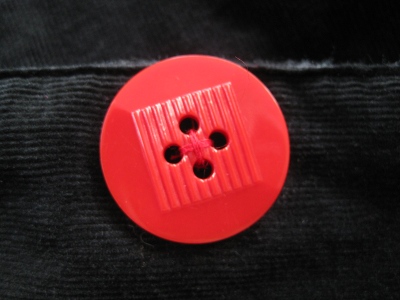 Because I wanted to anchor the buttons well, and didn't want thread showing through on the fleece side, I used small red buttons as anchors underneath the large ones on the "front":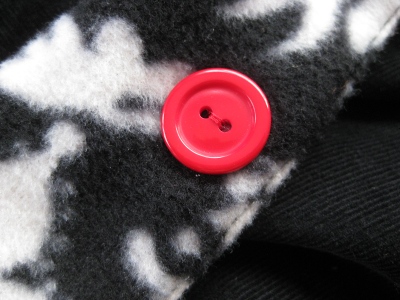 At first, I skipped the decoration on the corduroy side, but the wide black ends just needed something more.  I'm not sure that what I added is the "more" required, but hey, I'm an engineering sort, not a creative sort.  Gotta work with what you have.
The end result of the embellishment wasn't where I thought I was going, but I like the result anyway.  Kenneth King, who is the undisputed king of embellishment, would never have stopped here, but I am a simple cotton-and-wool kind of girl, so this was fine with me.
The tassels are drapery tassels bought at JoAnn's.  They fell apart the first day I wore the hood (at JoAnn's, no less, where I was shopping for more tassels!)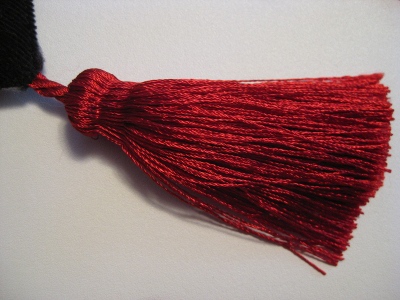 See what's missing?  It's the thread that wraps around the "neck" and keeps the tassel in one piece.
You might say "duh!  those are home dec, not apparel", and you'd be a little correct, maybe, except how do you think these would fare on your table runner?  The curtain you open and close?  Your pillows?  Not well, my friends, not well.
However, the fix was easy, if annoying.  I just hand-stitched through the tassels just below the knobs, wrapped matching thread around the top of the tassel over and over and secured it so that each one looked exactly as it did before they came apart.
The tassels are not supposed to be washable, but my guess is that they will wash fine, but will fuzz up like dust bunnies once they hit the water.  That could be all right; I've got a spare one I'll be testing.  The tassels allegedly dry clean, so they'd probably work well on any garment that requires that kind of care.
The inspiration for this piece came from the wonderful French blog Mes petites mains . . .  pleines de doigts, which you can read in English via this link.  (You can also get to the translated version anytime from my Links list on the right of this page.)  Author Nadine has  a tutorial and pattern right here.  If you don't read French, open a Google Translate page, and copy and paste the URL into the page; voilà, you'll have English!
Nadine's original design is very different from mine (and much more creative!), and her blog is full of marvelous things — well worth checking out!   I DIDN'T use her tutorial, though, as I'd forgotten about it, so my hood is a little different.  As you can see below, my pattern was kludged up over several iterations: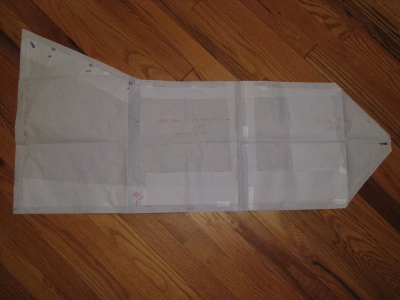 Here are the differences between mine and the vastly superior Nadine version:
The back edge of her hood is curved (probably a good idea!); mine is straight
The long ends of my version are toooo wide; Nadine's are about an inch and a half narrower.  That's better!
Nadine put all the buttonholes on one side on her pattern, but one of her examples has the buttons and loops alternating; that's what I did on mine
Her pattern has rounded edges at the bottom of the scarf; mine has points, which I prefer.  She's made a bunch of very good-looking hoodie/scarves with the rounded ends, though.
Let this be a lesson to all of us that organization matters: I found Nadine's tutorial, a week after I'd finished my hood, when I finally go to the bottom of the pile of papers on my desk.  I had printed out the tutorial two weeks before Thanksgiving!  After I'd made mine, but before I found Nadine's pattern, Mr. Noile and I spent quite a few minutes trying to figure out all the configurations for this garment — all because I had not noticed the fourth button at the neck, which is more than obvious on Nadine's pattern.
Inspiration source (and a better pattern!):
Nadine's free tutorial and pattern are here.  She asks that you send her a photo if you make one up.  Mine's on the way to her.

Related: Embellishment