Felting, Of A Kind
January 9th, 2011
Warning
: Undefined variable $comments in
/home/public/wp-content/themes/inove/single.php
on line
18
Leave a comment
Go to comments
This presser foot is called a "couching/braiding foot".  It's one I haven't used before: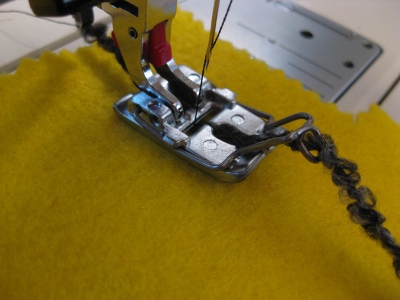 It's got a loop in the front through which to feed braid (or thick yarn), and a groove in the back so that the braid/yarn can be grabbed with the walking foot and feed straight through.
I want to do a subtle embellishment on an upcoming garment, so I played around with this foot a bit, using a variegated bouclé  yarn applied to plain, solid gray, plastic-bottle felt.  The results surprised me: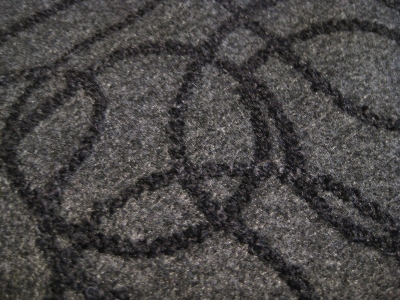 It looks like needle felting, doesn't it?  And, wow, does it make that horrible, plasticy, felt look good!  And, oh boy, is this presser foot  fun to use!
For better or worse, I won't be applying the bouclé to felt of any kind for my next project, so I've still got some experimentation to do on other fabrics.  This is a very encouraging preliminary result, though.
My Pfaff 1229 doesn't have much in the way of what anyone would call truly decorative stitches, so I wondered if I'd find one that worked for this type of thing.  I ended up using stitch 24: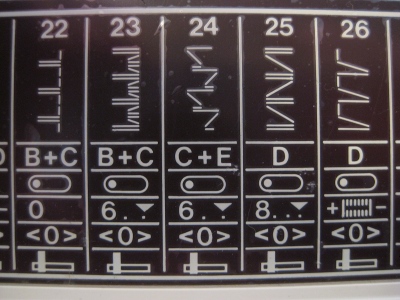 I was mostly concerned that the stitches would be too obvious, and overwhelm the yarn.  I hadn't counted on the felting effect.  This presser foot is going to be a great tool for the upcoming project, and for a bunch I can imagine in the future, too.
Note:  I forgot to engage the walking foot when I took the first photo — it would normally be "standing" on the yarn directly behind the presser foot.