. . .  to get off the couch.  Really!  You might just need to experiment (even if it's for years) to find the thing you love.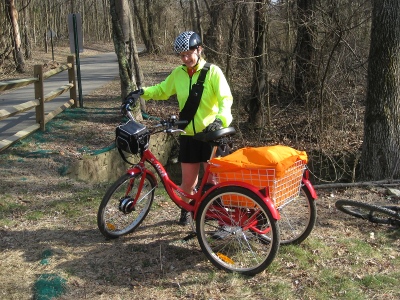 Today I did  my first long solo ride of the year:  22.43 miles.  Whoo-hoo!
Sadly, if I'd just ridden 2.57 more miles, I would have done a "quarter century".  Next time!
Afterward, I came home and did my regular exercises:  Ralf Hennig's Four Way Burn — it's a perfect program for uncoordinated, exercise-phobic people. It doesn't seem hard at all, but, gradually, over time, very interesting changes occur.
After four months of Ralf's program, my muscles work together in ways I'd never dreamed they could.  Roughly 20 pleasurable minutes every other day, folks, and it'll change your life.  (Ralf's book is hard to find, but you can get it on Amazon for practically nothing.)
I've always looked kind of trim, but that didn't mean I was healthy.  A year ago I thought walking up and down stairs was "exercise".  Now I'm flexible and almost fit.  Who wudda guessed it?