Minoru Jacket Around The World
More Minoru Jackets! Scroll to the bottom to see (updated 17 March) (and again on March 20)
Two more (September 5); Scroll to the bottom to see.

Ever wanted to make outerwear, but didn't know where to start?  Sewaholic's Minoru  jacket is spectacular for inspiration.  Don't believe me?  Look at all the different variations people have made over the last few months since the pattern was released.  It's a wonderfully drafted pattern, and within the reach of advanced beginners.   I love, love, love this pattern!
Click on associated links to go to each sewist's blog to get all the goods on the Minoru choices each made.
Here's mine (USA), to start things off, of purple corduroy with a red floral lining and added external pockets.  I made many small changes and added a few features; you can read the details beginning here: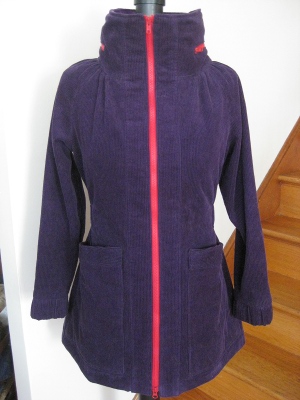 KristenMakes (UK) a perfect country coat, updating a traditional classic with corduroy elbow patches and collar facing, and adding a flannel lining: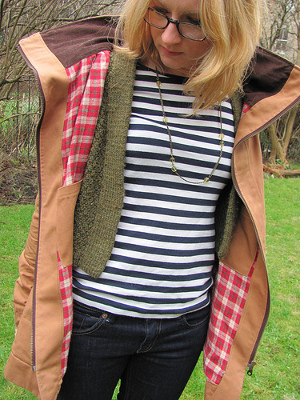 Damselfly's Delights (Canada) put a batik lining in her Minoru, and added  inseam pockets: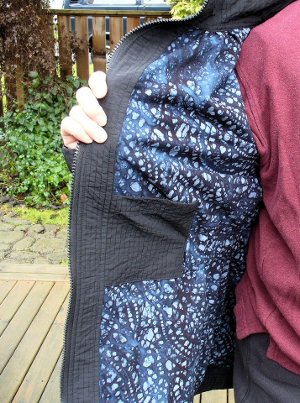 four square walls (USA) Andrea B's version is tweed, with a bold lining, and cute pockets from remnants (this is where I got my own pocket inspiration):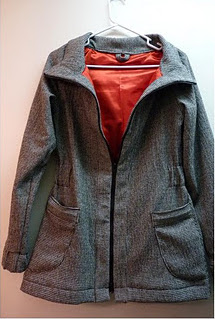 Sophia Sews (USA), with re-drafted lower front, vertical pockets (take a look; they are incredibly RTW!), and zebra lining: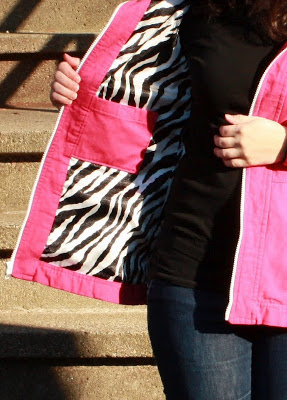 Savory Stitches (USA) used a bold cotton print with dark gray rayon lining: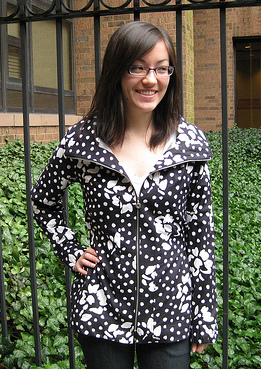 Beau Baby (USA) made hers in bright orange denim, with a print contrast (she lined the hood, but otherwise made the pattern exactly as designed):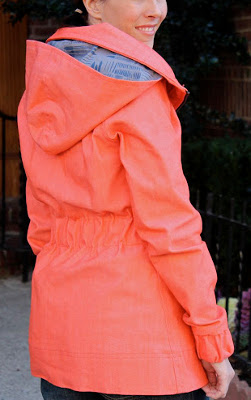 Sew I Think I Can Sew (Canada) made hers with a splashy floral cotton lining and side seam pockets: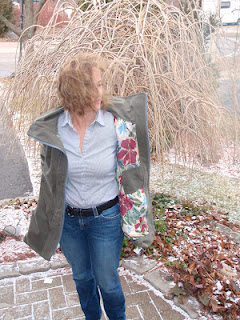 Did you make that? (UK) Minoru, the luxury version, made with camel wool and a silk lining: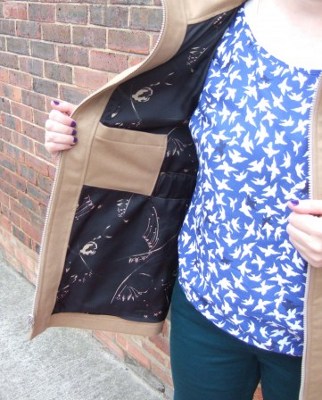 JuliaBobbin (Australia) proves that  luxe doesn't have to be silk, with a gilt skull and crossbones lining, and a whimsical button on the pocket: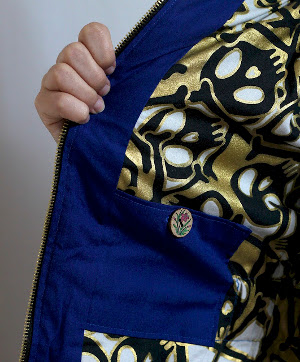 Nikol, of Hubbahubbadingdong (USA), made her Minoru of scarlet velvet (re-purposed curtains!  you go, girl!) with a golden silky lining: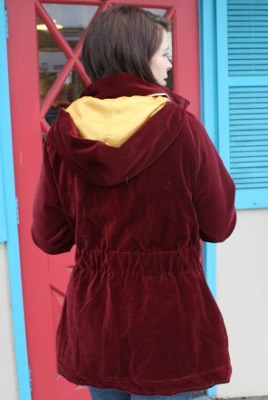 Sewly a Harpist (USA) went for iridescent polka dots and a pink lining: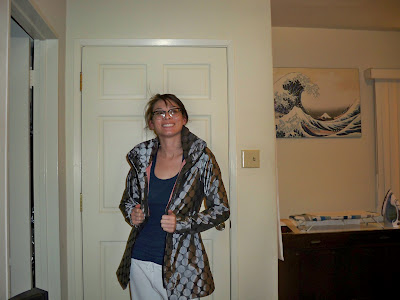 Stitch and Witter (UK) made hers of gray corduroy with royal and white polka dot lining: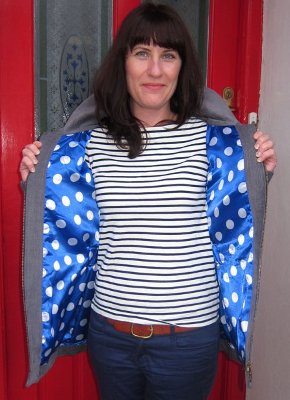 My Own Inspiration (Australia) is charcoal marle gabardine with a nifty cotton lining, and welt pockets: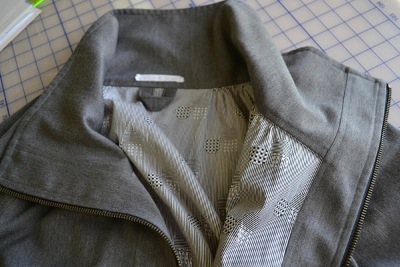 biblioblog's (USA) is of uncut rust cord and leopard lining (go peek — it's wonderful):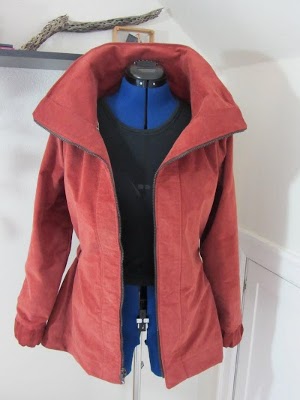 SewMentalMama (Ireland) made hers waterproof (click the link for great advice on waterproofing), of bright coated cotton, and put the hood on the outside, using hook and loop tape at the bottom of the collar, instead of pulling the hood through a zipper (she also shortened the jacket above the waist):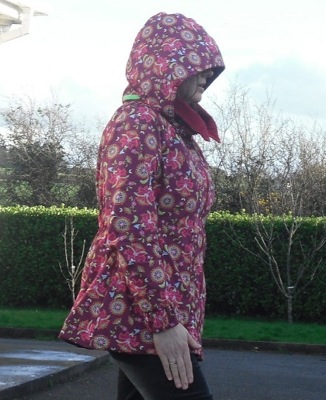 How good is that? (Australia) added additional zipper pockets to her Minorou; check her blog for tips (great idea for travel!):
MalleQ (Denmark) made  Minarou the Parka  with a faux fur-trimmed hood, faux fur lining, thinsulate for warmth, and hot pink zipper trim: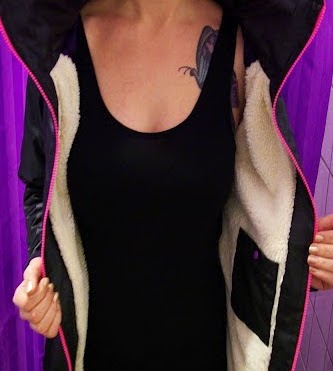 Rocket Sews (Australia) did a serious job of making proper outerwear of her Minoru, with waterproofing, reflective piping, welt  pockets with flap, hood toggles, and a zipper underlay (she also chose to leave the cuffs off):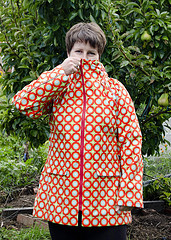 The Traveling Seamstress (USA) denim made chic, with coordinating cozy plaid flannel lining: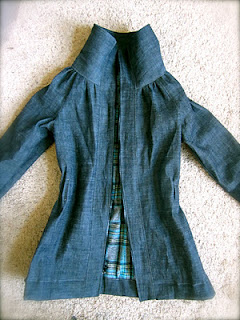 Needles and Haystacks (Ireland) choose a gray and rust print corduroy with a polka dot lining, and made a cuff-less version without the hood: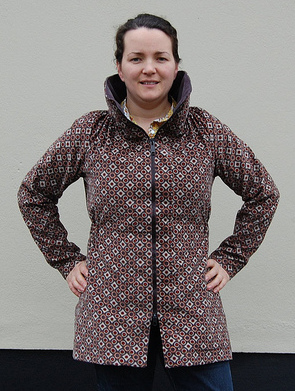 Nette (Germany) made her Minoru of camel-colored linen, and added a cotton floral lining: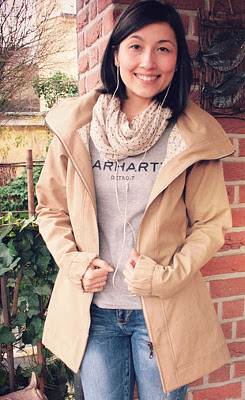 It's a Sewing Life (USA) used raincoat fabric, added side pockets, and decided against the interior pockets: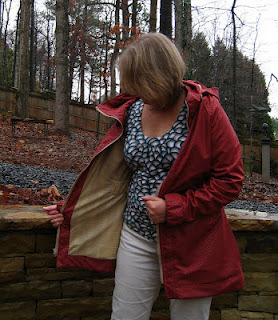 Alison Rea Mason (Canada) went for bright red with a metallic zipper (and says she's ordered fabric to make another Minoru):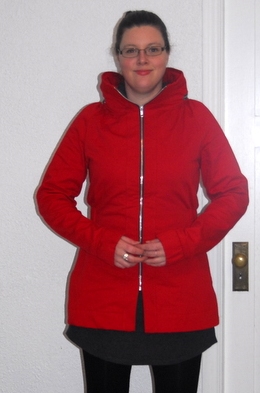 Sew Fearless (USA) made hers in a rich, blackberry corduroy, with a matching zipper, and a marvelous striped lining (you can just see a hint here):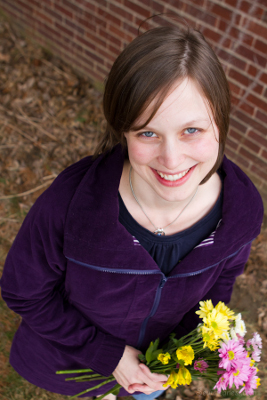 sew make believe (UK) used cotton drill with piping down the front, a striped lining, and in-seam pockets: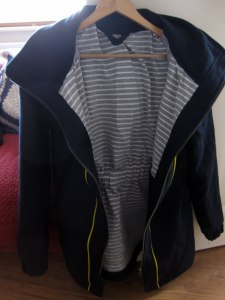 Sew Well (USA) made this smashing version, and has a pocket tutorial on her blog, as well: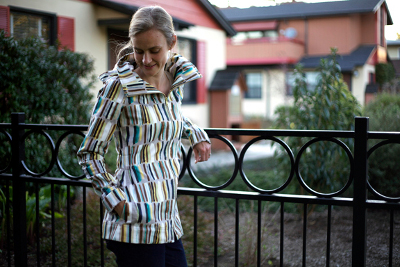 bubala's (Australia) Minoru is denim, with a flash polka dot lining, and glorious topstitching: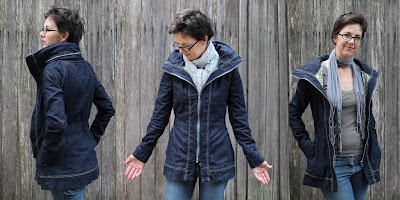 Wendy, of west 38th (USA) made a canvas hooded raincoat with a great cloud lining, and a zipped interior pocket: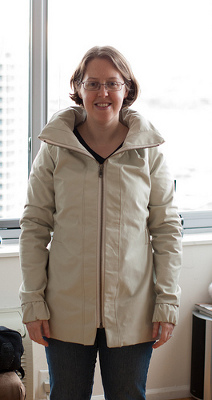 PepperTreeRoad (Australia) made hers in crisp red and white, and added in-seam pockets: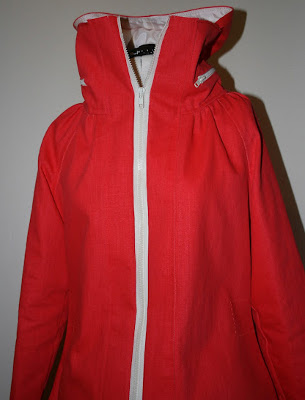 Last (for now), but by  no means least, is Miss Jackson's version (Japan) which also goes all the way to parka, made in grey, with faux fur trim, plaid lining, faux-flapped pockets, strapped cuffs, and a buttoned flap over the zipper: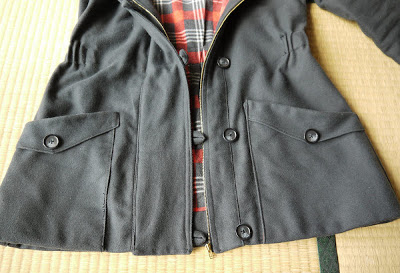 More arriving!  I added this latest batch on 17 March.
Here's Christina's from this, that, the other thing (USA).  Hers is tan, with Kelly green zippers (for the side pockets, too!), a subdued plaid lining, and Kelly green rayon bemberg sleeve linings: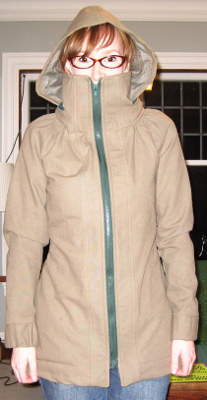 From Mama Pluis (The Netherlands), a raspberry version with a tiny floral print lining (made with a hood but without pockets):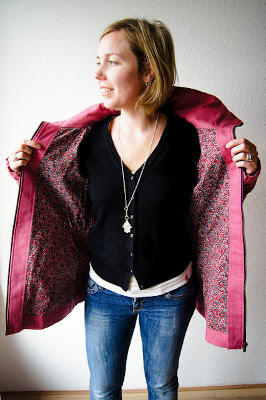 VickikateMakes (UK) a version in waterproofed cotton canvas (using NikWax), and with the body lined in an argyle cotton flannel, and (whoo-hoo!) reflective zippers.  (She also did an FBA, and shortened the torso and sleeves)::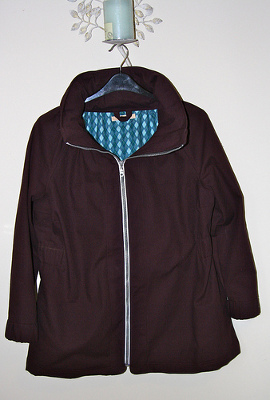 La Petite Chouette (Canada) made her Minoru jacket of red polyester, with a a polka dot lining (black mini dots on white)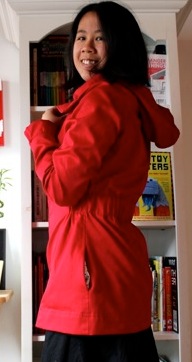 New additions, March 20:
From Steph A, at escapades in sewing (Canada), a Minoru with super polka dots lining (or maybe they are bubbles?  glorious, in any case!).  The fiber is a micropolyester/cotton blend, and the lining is quilting cotton; sleeves and collar are lined in black Bemberg; lined hood and side seam pockets: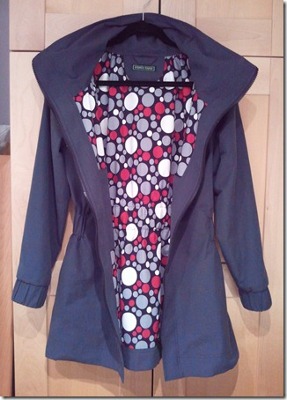 From Stitch me Softly (UK), red cotton twill with a brushed plaid lining, side seam pockets, and no hood: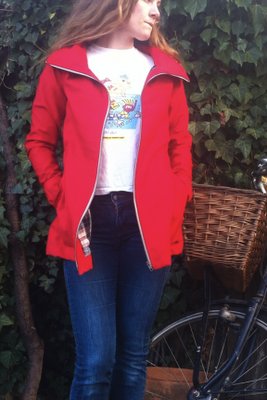 LEC's Miscellany (USA) made hers out of red wool crepe, with a joyous starburst (or are they chrysanthemums?)  lining of quilting cotton, and metal zippers: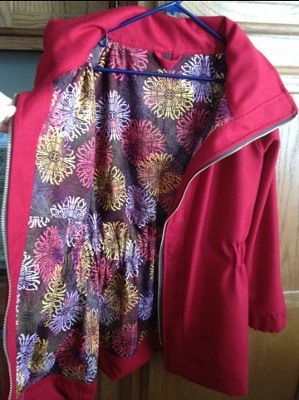 scuffsan (Sweden) used nylon for the exterior, for water repellency, a floral cotton for the lining, and black polyester in the sleeves to make it easy to get the jacket on and off.  She added outside welt pockets, using a bit of lining for a cute touch beneath the flaps: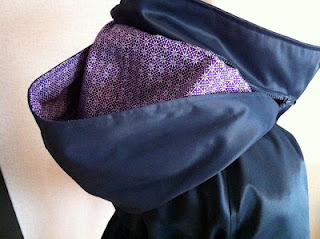 Tasia does not recommend plaids for this pattern, but take a look at what Pauline of Dessine-moi un bouton (France) did, using a subtle wool plaid (she calls this her "Sherlock Minoru") and gold Bemberg lining: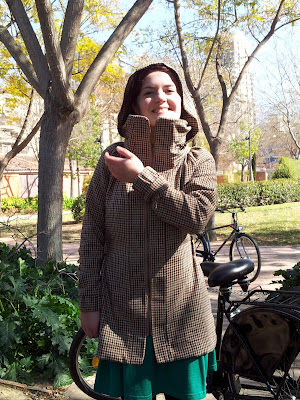 Added March 29

Susan (USA), of Knitters Delight finished her Minoru.  It's got a hood, and a gorgeous abstract lining (you might have to look for an earlier post to get a good look a the lining.) She made side seam pockets, and pleated the neck instead of gathers.  She's also planning her next Minoru: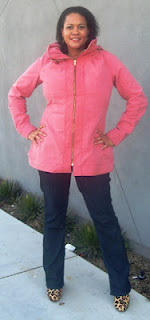 Adrienne (Canada), of All Style and All Substance, made hers of black oil cloth.  She calls it the "Catwoman" Minoru — whoo-hoo!  Check her blog for tips on working with the fabric; she skipped the cuffs as an accommodation to the material.  Adrienne made her Minoru in one weekend!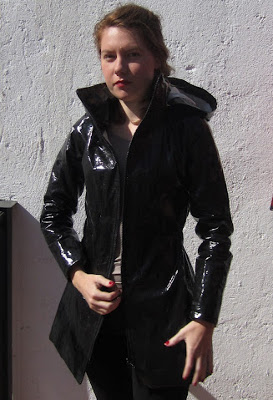 CherryPix (USA) made hers of black twill, lined with poly polka dots with a gingham lining for the hood and collar: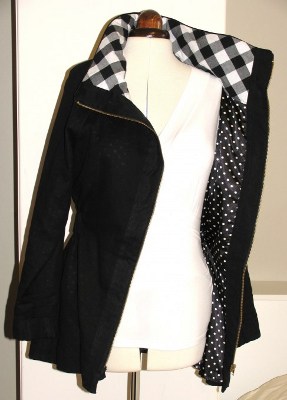 Lindsay Pindsay's (USA) Minoru is gray twill with a bright yellow and black lining, slippery fabric in the sleeves, an unlined hood, and side seam pockets: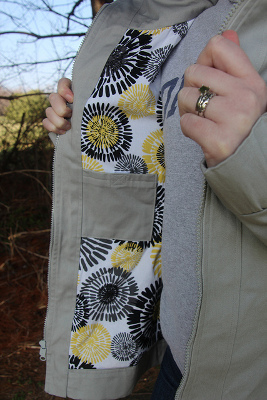 Annabellebumps (USA) chose pink cotton twill with a pink and green mini-print lining, and a two-way front xipper: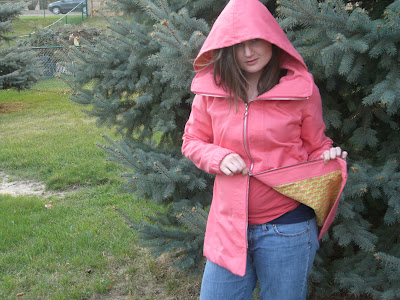 Sew Brusnwick (Australia) wanted a light summer jacket, and used a "pale pink/beige/mauve" cotton and metal (!) crinkle fabric with a Japanese cotton lining: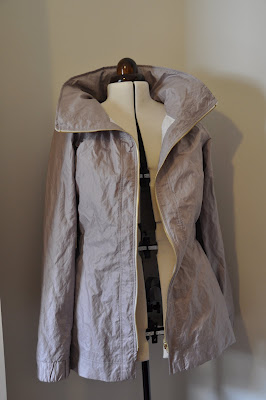 Suzy (UK) of Suzy Patterns used Leopard fleece, with a pale yellow poly lining. She kept her Minoru simple, skipping the hood and inside pockets when she made this cozy (and sexy!) version: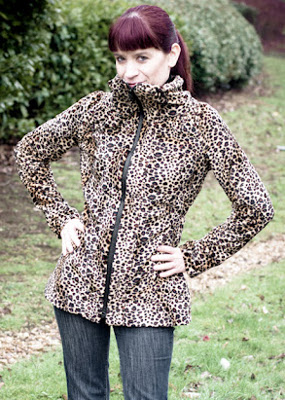 Two more, from Susanna (Sweden).  Here's the first, in a vibrant red (Susanna's lining, in keeping with Minoru tradition, is excellent — go to her blog to see it):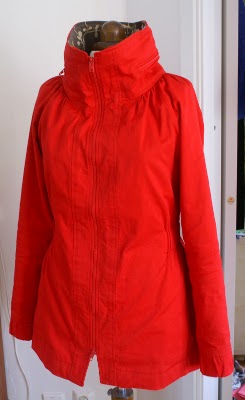 Susanna's latest Minoru is this mixed print version. Love the way these prints pop!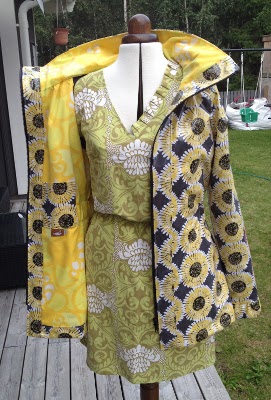 This is my inspiration archive — I know I'll be making another Minoru!  I hope all these marvelous jackets inspire others, too.
Got a Minoru you'd like added to the list?  Leave a comment, and I'll put it in the post with a link to your blog.
These examples don't include Tasia's pattern testers:  Click over to Sewaholic and search on Minoru to see even more brilliant jackets.