(Note: Thanks to the excellent influence of Jorts the Cat, my images will now show descriptions beneath. WordPress doesn´t support ALT tags for users with limited vision, so this is how I´ĺl accommodate.)
When I first saw the L´Hood Ritza hat, I swooned. It was bonkers in all the ways I love most: wide-brimmed, cape-backed, and had a weird engineering twist.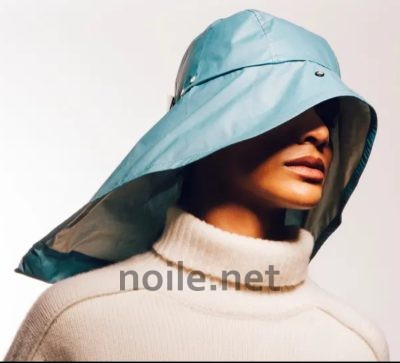 Image of an over-sized blue Ritza L´Hood storm hat with a
very large brim covering the eyes and upper shoulders of a model.
That twist was a wrap band that allowed the cape-like hat to become a smaller hood.
But . . . the Ritza was perpetually out of stock in my size, even though I waited for months. Naturally, I decided to try to make my own.