I spied an odd canvas tote at the Freer Gallery several years ago. It was just black canvas, but the (rather nicely done) print on the front was Philip Evergood's Dowager in a Wheelchair. (Yes, the name's not his original one.)  The painting is in the Smithsonian American Art Museum, where I'm afraid I still haven't seen it.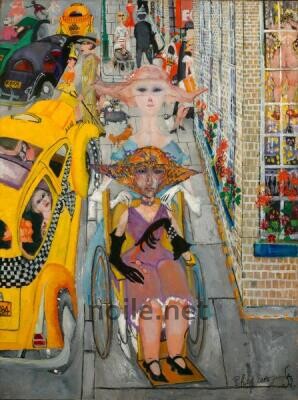 Although Evergood called his inspiration "tragic", I loved the indomitably of his subject; the (intended) evocation of vulnerability in a privileged person, and the vibrancy of New York life (Evergood says it's Madison Avenue, and it clearly is the Upper East Side, right?) crashing all around the dowager and her ghostly, younger, attendant.
I didn't need a tote bag, so I converted it to a backpack so that I could easily transport my Cricket rigid heddle loom.