Scooter Handlebar Bag
Sometimes — that is, some non-Covid time — when I'm in a city — looking at you, Washington, New York, and various other smaller, sidewalk-enhanced locations — I like to have a small (non-electric) scooter with me. This is especially nice in summer in Washington, where it's often possible to work around pedestrian routes, and where the humidity and heat are only enhanced by zipping through summer on wheels.
But my little scooter needed a bag. Topo Designs makes a great bike bag, and I really, really wanted to buy theirs, but it's way too big for my scooter, so I took inspiration from their slightly kooky triangle shape and made my own.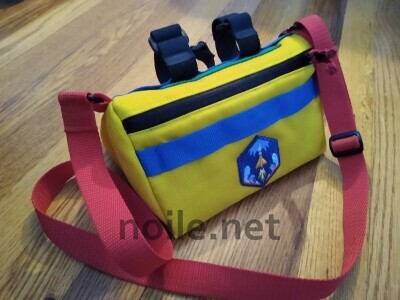 That strap is actually a bright bold red. Sadly, I'm someone who sews,
not someone who actually knows how to use a camera phone.

My design owes a lot to Topo, but I changed out a few things to suit my scooter. It's a Razor A5 Lux, a petite little thing with big wheels, and handlebars a lot smaller than those Topo's bike bag is designed for. My bag has a removable strap, since I wanted to use it as a small cross body purse when carrying my folded scooter, and I devised a completely different attachment system, better suited to the way I'd be using it.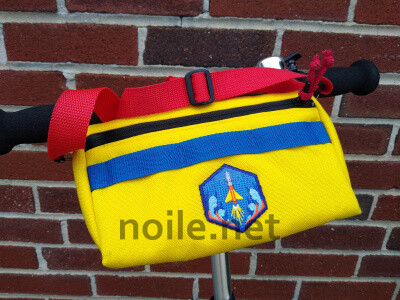 That's the strap there, in red, lying across the top of the bag. The long bits tuck into place on the other side of the bag — which looks a lot more trim when it's on the scooter with the strap detached!
At heart, this is a very simple design, just a 3D triangular shape, with a bunch of webbing attached in various places.  Figuring out where the webbing  and fasteners should go, and making sure the bag wrapped around the triangle ends are the only tricky bits.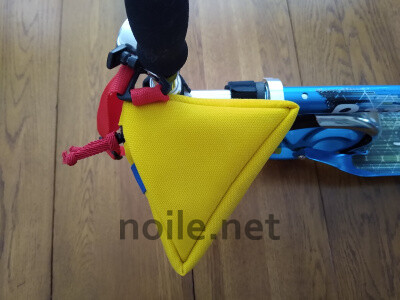 The bag is made of bright yellow Cordura with bits of blue webbing along the front and back to make loops (and, let's face it, for decoration), green webbing for a supporting role in back, and bright red webbing for the shoulder strap.
The actual connectors — two for the handlebar, and one for the upright post — are hook-and-loop straps with nylon connectors, and grab tabs for easy removal.  The straps slip through slots in the blue webbing that runs across the back of the bag, and can be completely removed and put inside the bag if using it as a day bag.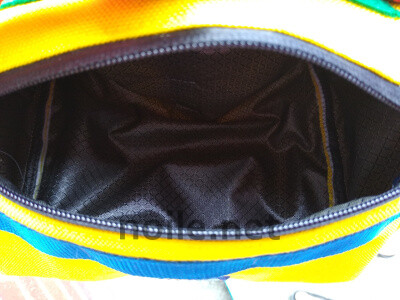 The lining is a black mini-diamond textured ripstop. Topo finishes their bags beautifully inside; I wasn't as diligent, and just settled for zigzagging the edges together.  The bag is small enough that I didn't add any kind of internal pocket, and I forgot to add a key hook, so I'll probably eventually do that.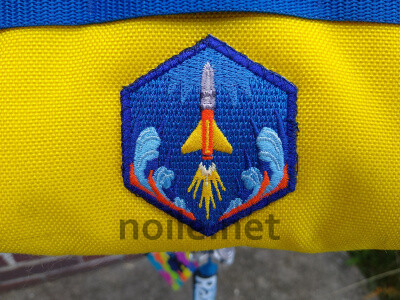 I might be too enamored of adding embroidered patches to my bags, but, let's face it, they do lend a rather nice finishing touch, don't you think? This one is from diy.org, which sells beautiful "skill badges" to go along with their enrichment program for kids — but there's no reason grown-ups can't love their badges, too.