This skirt belonged to my sister decades ago; it's a vintage (just barely) piece from Max Studio, which is still around, and still doing interesting stuff with wrinkled fabric.  This particular skirt is made of acetate, pre-crumpled, and, until this week, had a heavy knit band with a drawstring attached to the top.  I've just laid the original waist band over the skirt to give the effect here; I'm kicking myself for not having taken a picture before I removed it: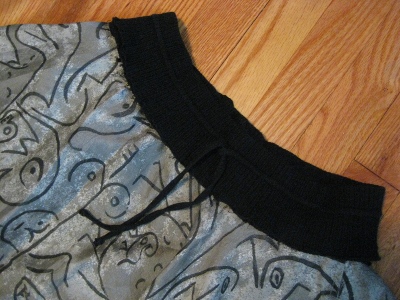 The skirt goes to my ankles, and I've always loved it.  It feels like silk, and floats like a dream, all the while drifting around, and clinging to, my body as if I were a sylph.  But I've always hated that bulky waistband!  It  just seemed to me to weigh the skirt down, to no good effect.  (Yeah, yeah, I know — it's "art".)  Not to mention that all that rib knit was thick and lumpy under the tops I wore with it.  Or that I hate drawstrings.
So I removed the original waist band this week.
Which was no small feat.  The ribbing wasn't just slapped on; it sandwiched the top edge of the skirt perfectly, and ripping those stitches — rows and rows of them — took forever, and great care.  When I was done, I replaced it with a deep  stretch lace waist: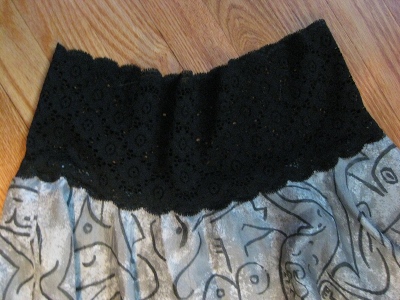 The lace can be worn all the way up, kind of corset-style, or folded double, and I can wear the skirt pulled up, or push it lower, depending on the length or effect I want.  Much better now.  Here's what the whole skirt looks like: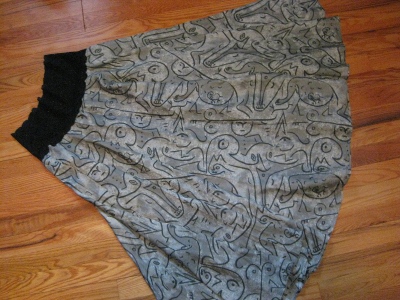 (That wacky stretch lace?  From Jomar; it's five inches wide.  I paid $5.00 USD for an industrial-sized spool.  How could I not??  If I never do anything else with it, it's already been a bargain.)
Note:  I realize that I've just left a comment on Peter's blog about my general disdain for designer labels, the current poor quality of "designer" apparel and accessories, etc., and my unwillingness to buy into the whole concept.  In my defense, I'd like to point out that I didn't buy this skirt!  I did look it up though — now that it's "vintage" I wondered what Max Studio was up to.  I can't vouch for the quality for their clothing these, days, though.  You'll have to check that out yourself.