Fifty percent more expensive($15!); 200% less interesting, and page after page of seriously lackluster  content. I was so thrilled to see this in a USA bookstore, and so utterly disappointed when I went through it.  Costly AND boring; it's a lousy combination.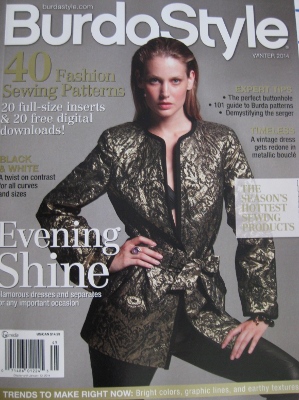 With only a couple of exceptions, the patterns are baggy, boxy and uninteresting — not to mention that most, if not all, appear to have been recycled from previous European editions of BurdaStyle — and not the better examples, at that. PS:  I already have those patterns, which happened to have come with BurdaStyle issues full of other, better, patterns, too.
Just to reduce the value further, there's no "All Styles at a Glance", so figuring out exactly what's in the issue isn't quick or easy, and, worst of all, half the patterns are *downloads*.  If your dream is to spend hours on your knees taping paper together and you don't care if your patterns are still accessible in the future, then this edition is for you.  None of this describes my preferences, though.
There's more editorial in the USA magazine, but I don't even like the editorial in the European versions; it's even worse in this North American iteration.  I buy BurdaStyle, Europe, for the patterns and the alternate sensibility the European styles offer.  I don't even care what language they're in; I buy them because they're interesting.  This magazine isn't.  I sure hope I can still buy European issues when I'm in New York; this "targeted" version costs too much and offers too little for me to give it another glance.
I'm really baffled: why would those of us who still buy the traditional BurdaStyle want this more expensive, watered-down version that doesn't even include the patterns featured? And why would people who don't already like the Burda magazine model care about this dull offering?
A month ago, I bought my copy when out of town; my local bookstore got stacks of them in weeks ago, and not a one seems to have sold.  A few years ago, the same store used to stock the English version of European BurdaStyle, but just three copies at a time.  In spite of the fact that they sold out, the store stopped stocking them.  It's hard to believe that "BurdaStyle USA" will be able fill the empty niche.
Maybe I'm wrong, but I'm pre-disposed to liking Burda, and this approach seems really off. Without some major changes, I'm guessing that "BurdaStyle USA" isn't long for this world. Time will tell, I guess.
Can't we just get better distribution of European BurdaStyle in North America?  It's a better magazine, a better value in terms of content (visually, in the magazine, and in terms of actual patterns provided), and offered at a better price.