Threads Wardrobe Storyboard
Chez Noile is still in chaos, so I needed some quickie sewing projects that would chew up stash and require minimal space in the sewing room.  Also, I need summer clothes, since I've done little about acquiring any for years.  The Christine Jonson summer wardrobe from Threads (Issue 155 June/July 2011) became my springboard:
I made up a storyboard to keep my goal firmly in mind, and I even made the Princess Dress, although I'm not much of a dress-wearer.
Not only is the storyboard a great help in keeping me on track, but it's a marvelous tool for checking and gathering notions.  I used line drawings from Christine's site (altering at least one neckline according to my whim), and mocked it up on my computer, leaving room (more or less) for swatches.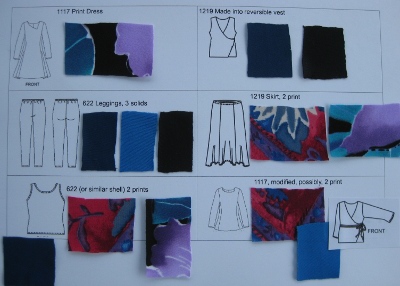 The next step was to print it it on cardstock and glue my fabric swatches on.  Then I cut a transparent quilting template to fit over the whole thing, which protects it when attached to a clipboard.  With clipboard in hand, heading to the fabric store to pick up whatever thread or notions I need is fast and easy.  Matching colors is a cinch using the storyboard; it's much easier than managing a slew of loose swatches.
Inevitably, I've made a few changes.  I've decided not to make the sleeveless vest, since I can't actually see myself wearing it.  In summer, if I need a wrap, I need it over my arms, to compensate for air-conditioning.  And I'm not sure what I'm going to do about the jacket.  Do I make it reversible?  In a print?  And I'm not sure I'll make the sleeved top from the Princess dress pattern, since I now suspect that, for this particular design, my bust is better balanced with a skirt.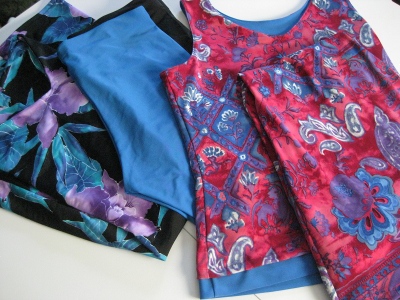 But changes and refinement as I go along are all part of the program.  I'm really enjoying making up a planned wardrobe; I think this is a first for me, and I'm counting on making this my "go-to-it's-brainless" summer travel wardrobe.
So far, I've completed five of the garments, and will be knocking off a few more as I wait on the tradesman's fancy and the moment I can put the house back together.  Finished are the dress, a reversible top, one skirt, and two pair of leggings.  Reviews to come, and more on the way as I knock off the rest.
Christine Jonson quotes a budget of "just under $400" for nine to twelve garments that yield over twenty outfits.  My costs will run under $70 for all pieces, but I'm not using the premium cotton/lycra fabrics Jonson features.  (I can say "for all pieces" now, because I'm working with a finite number of fabrics, even though I haven't finished the project.)
Related:
Christine Jonson Princess Dress 1117
Christine Jonson BaseWear One Top 622
Christine Jonson BaseWear One Leggings 622
Tunic/Tank Dress from BaseWear One Pattern 622