I did it!  I knocked off (most of)  the pieces I'd planned for my Threads-inspired wardrobe!  Here are the pieces all spread out on my cutting table: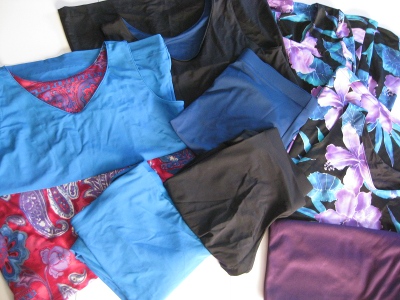 Well, actually, I didn't make several of the garments I'd planned.  Here's the list of what I did make:
a dress
a reversible tank top
a skirt
a print tunics
a solid tunic
(7. 8.) three pair of leggings
That's a set of   eight coordinated garments which can be interchanged a bunch of ways. The total cost of for all eight pieces was under $60 (USD), or about seven dollars and fifty cents a piece.  (Don't hate  me; I can go to New York City any time and buy inexpensive stretch fabrics!  At least until the fabric district disappears.)
(My original post quoted a likely total cost of about $70, but I had also purchased several yards of a spandex that I didn't end up using.)
All eight pieces fit into a single packing cube, rolled up like so: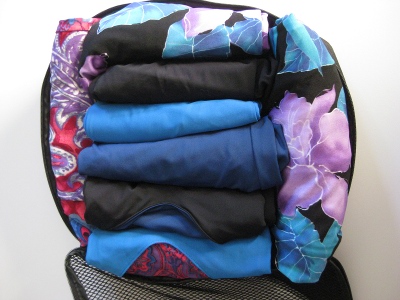 Here it is, all zipped up with a ninth piece added: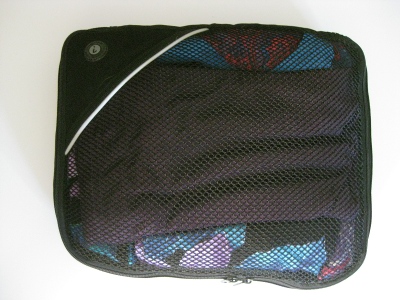 This cube is 13.5 inches by 11.5 inches by 3 inches deep — not too big to carry in a large handbag!
The ninth piece wasn't part of the original plan.  It's an eggplant-colored wrap that you may be able to suss out on the lower right of the first photo.  I haven't blogged about it yet.  I take it along to wear when going from 95 degrees into air-conditioning.
In the end, I didn't follow my plan exactly as originally intended.  Instead of a wrap jacket, and instead of making two long-sleeved tops, I made two sleeveless tunics.  We're really hurting this summer on the East coast, so "sleeveless" was a much more appealing idea.  The tunics gave me mini-dresses that I can wear alone with the leggings.  Also, I made only one sleeveless shell, but made it reversible.
Thoughts:
Sewing with a plan is fun!
These garments were so quick to sew that the entire wardrobe could have been done on a week's worth of evenings.  Choosing simple patterns might be a good way to kick start when motivation is lacking.
Because this was sort of a kooky project, I let myself experiment with fabrics I wouldn't necessarily  usually wear.  It's good to move outside the comfort zone a bit.  (I'm a linen or technical fabrics wench as a rule.)
On the other hand, I learned that a tropical spandex print isn't really "me", at least not when it involves long sleeves.  My princess dress wears well, but the wild print makes it feel like a whole body tattoo — and all I can't think about when I'm wearing it is the way those tattoos degrade and become muddy over time, and the way tattoos look a decade later, when skin has morphed.  Not a pretty image; it kind of spoils the dress for me.
It's a lot of fun to be able to sneak 20 minutes and run in and stitch up a pair of leggings!  Verry satisfying!
This was a great way to discover and explore a new (to me) pattern line.
If the princess dress were made in something a little more, ahem,

mature

tasteful this wardrobe might carry me almost anywhere. (If it were a little black dress, for example.)
Wardrobe in a pocket; I love it!
Related:
Christine Jonson Princess Dress 1117
Christine Jonson BaseWear One Top 622
Christine Jonson BaseWear One Leggings 622