Christine Jonson Skirt 1219
Jonson calls this an A-line skirt, but I wouldn't call this an "A-line" at all.  The seams are princes-styles gores, and the skirt is very narrow by design, not flared like an traditional A-line.  Unlike an A-line skirt, this garment flows beautifully, and fits very nicely around the body, at least partly because there are no bulky side seams — also contrary to typical A-line styling.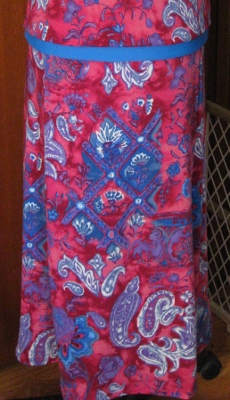 The cjpatterns sketch, as usual, takes a few liberties.  There's no doubt that the skirt flows wonderfully, but in no way does it achieve the proportions in the drawing, nor that width at the hem.  Also unlike the illustration, the actual skirt is quite narrow: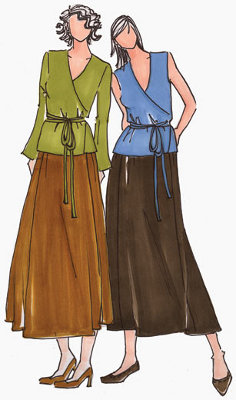 Construction couldn't be simpler.  Stitch four seams, add elastic at the waist, and then hem.  I think Jonson has you fold and turn a casing for one-inch wide elastic; I don't like casings made of knits, and I prefer wide elastic at the waist, so I altered my pattern to accommodate those changes.   My elastic is just attached to the right side, folded under, and "stitched-in-the-ditch" at the four seams to hold it in place.
Here's how the skirt looks with the tank from Jonson's BaseWear One pattern: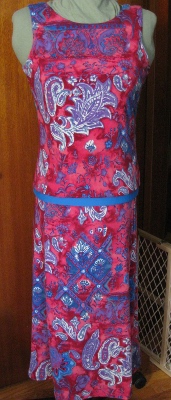 The fabric's an ITY from Spandex House; I wondered what it would feel like in summer heat, but I wore this outfit in 95 degree weather in New York City recently, and it couldn't have been more comfortable.  The skirt is very airy and light, and somehow the way it flowed made me feel cooler than I expected to.
I'm 5'2″, so I shortened the skirt, which gave me a length closer to what was illustrated on the pattern cover.  This is another piece in my planned wardrobe, and another perfect travel garment; it scrunches up into nothing, and comes out of a bag completely wearable.
Related:
Christine Jonson Princess Dress 1117
Christine Jonson BaseWear One Top 622
Christine Jonson BaseWear One Leggings 622
Tunic/Tank Dress from BaseWear One Pattern 622