Christine Jonson Princess Dress 1117
I looooove this dress!  When Carolyn posted about getting ready to make it (and about Christine's pattern offer, which, alas, I assume is over), I finally was inspired to experiment with a CJ pattern.  I'm so glad Carolyn gave me the nudge!  Here's the sketch from the pattern envelope: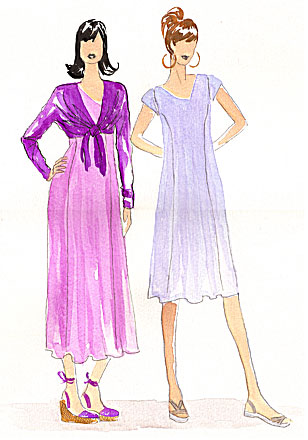 After consulting the body measurements on the envelope, and checking my knit, I cut a size 8.  That's the correct size for me based on high bust, waist and hip.  I narrowly escaped needing an FBA.  If my knit hadn't had 100% stretch, I'd have had to do one.  The resulting bust fit is snug, but not indecent, so I'm pleased with this decision.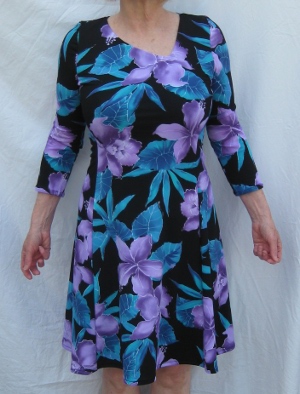 There aren't any facings; the bodice is self-lined.  I loved this; it's easy to construct (no finishing!), and I cut the lining first and used it as a muslin.  If your dress fabric is too heavy, there's no reason you couldn't use a compatible lighter stretch knit, or even a stretch mesh in a skin-tone or in compatible color for lining.  For this light lycra blend, self-fabric was fine.
The pattern drafting is a joy.  The center back seam follows the natural curves of my real, human, back, and adds to the flattering princess fit.  The skirt is so flirty and fun that I just don't want to take this dress off; I think there will be many more of these in my future.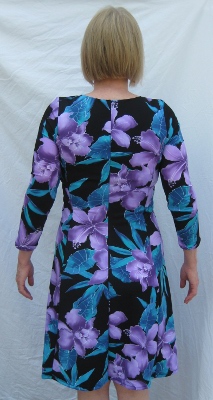 Construction couldn't be simpler; it's basically "sew the neckline" and then "hit the serger".  The hem is just turned up a half-inch; I can't remember if the instructions said to serge it first, but I did just to give it a little extra stability.  Then I topstitched (it could be twin-needled, but I didn't want to bother), and ended up with a light, stable hem.
I did make a couple of changes:  The instructions call for iron-on interfacing around the neck line, but I won't iron-on anything, so that was out.  I used standard interfacing, but chose one I wasn't happy with, so I ended up cutting it off, just leaving the slightest reinforcement at the seam.  That worked well.  Twill tape reinforcement might have been an option, but I rejected it, because I think the bulk might make it difficult to keep the facing in place.  Interfacing, of the iron-on or another variety, might be desirable with a heavier fabric, but this dress seems fine without it.
I edge-stitched just inside the bodice facing line; that prevented any roll-out.   The only other change was shortening the sleeves.  I don't really like wrist-length sleeves on my dresses.  (Though, go figure, I like extra-long ones on my shirts!)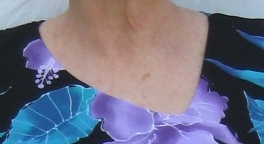 The single feature I'm not certain about is the asymmetrical neckline; it just doesn't do much for me (although check out how beautifully it lies in place!).  It seems sort of neither here nor there; next time I'll re-draw the neck and consider a straight vee.  Also, huge floral prints don't do much for my über-bust, but I'm just beyond caring now.  Let's hear it for mad purples and aqua!
The pattern offers a long version and this short one.  I didn't change the length of the short version:  For reference, I'm 5 feet 2 inches tall, so this dress will be quite short on a woman five or six inches taller than I am.
Related:
Christine Jonson Princess Dress 1117
Christine Jonson BaseWear One Top 622
Christine Jonson BaseWear One Leggings 622
Tunic/Tank Dress from BaseWear One Pattern 622