Vibram "Barefoot" Mary Janes!
Be still my heart!   I can now walk in "barefoot" comfort with shoes on.
I love my Five Fingers, but, let's face it, if you wear those babies around town you're going to be discussing your feet with everyone you encounter.  Merrell (whose shoes, along with Clarks, fit me better than any others) got together with Vibram and decided to solve this serious social problem.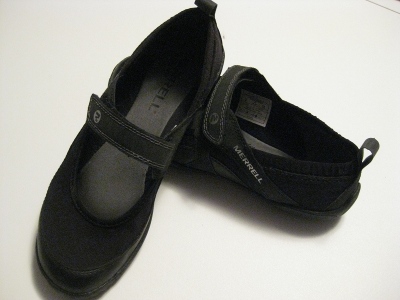 Five Fingers have a separate little pocket for each toe, and they are amazingly comfortable shoes; Mr. Noile and I wear ours kayaking.  The general idea is that they allow you to walk just as you do when barefoot; a whole bunch of runners swear by them, and feel they're much better for feet and legs than standard running shoes.
These Mary Janes are the covert version of the barefoot locomotion.  There are a bunch of other styles in this line (these are called "Pure Glove"), but this is the one I'll wear every day.  Someone described wearing these as being like wearing socks with soles; it's true!  Sooo good to the feet!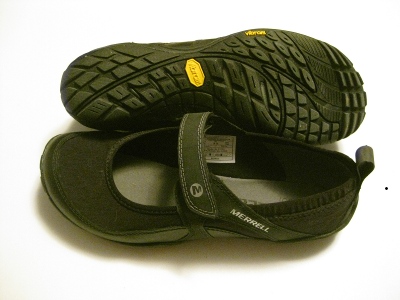 Oh, and they're machine washable.  They may just possibly be the perfect shoe in which to travel; they're light AND sturdy — as well as being readily removable if you have the misfortune of encountering TSA.
These might be barefoot shoes even Lsa could love .  .  .