I used Suzy's Addi Pro Mittens Tutorial; the process looked a lot easier than socks. (But, let's face it, socks aren't at all tough once you figured them out!) My first attempt was done double-stranding Lion Brand Fishermen's Wool in oatmeal and Kroy Socks in brown rose marl.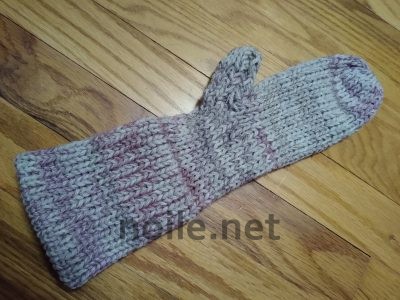 There were issues. I love the extra long cuff, which is doubled back and knitted together, but I had trouble with the thumb, which is done in a flat panel. I failed to drop the necessary stitches properly, and, well, it was a mess. Using these yarns, this mitten was also far too long for me.
I took it apart; too much was wrong, and I also hated the meh color(s).
Things got messier on my second attempt.