The Goldilocks Socks (95 and 96)
February 4th, 2022
Warning
: Undefined variable $comments in
/home/public/wp-content/themes/inove/single.php
on line
18
Leave a comment
Go to comments
Yes, these just might be the "right" weight socks for my Addi Express knitting machine. Not too thick, and not too thin, with stitches just about right for the yarns.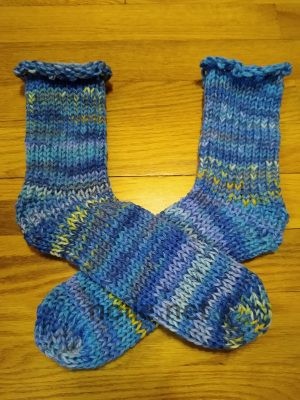 The Addi still struggles a bit with those increases and decreases, and I take great care with them! But somehow it manages very well — how can a plastic machine be this sturdy?!? — and does the job beautifully.
These socks are double-stranded, using two yarns that are nearly fingering weight. One is the Italian yarn that disappointed me when I used it alone, and one is the International Yarns Infusions that I've now used in several socks.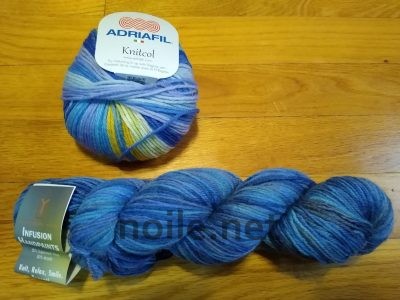 I like this combination a lot better, though I'm never going to be wild about pastel-y shades. I love blues, though, so this pair gets to coast on those shades!
For comparison, here's the image of the pair I made using only the Italian merino (they're mentioned in A Brief History of More Socks):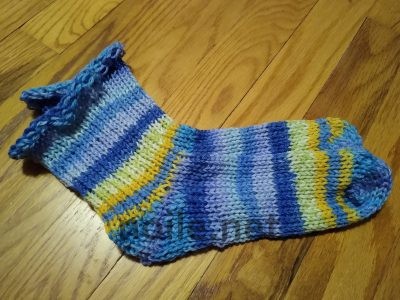 The (one-strand) result is lighter and loopier. It's actually a nice sock, but won't be very durable. The stripes are fun, though! Now, however, I have a benchmark for the weight that seems to work best.
Helpful Addi posts: