Tips for Using the Addi Express
January 16th, 2022
Warning
: Undefined variable $comments in
/home/public/wp-content/themes/inove/single.php
on line
18
Leave a comment
Go to comments
Here are a few tips, summarized, for maximizing success while using your Addi Express circular knitting machine: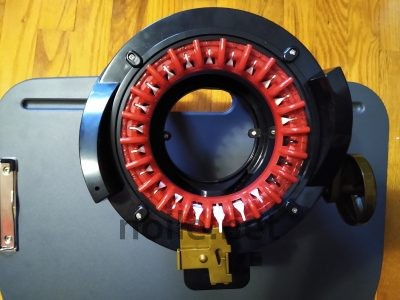 Best tip of all:  There are nearly invisible numbers in front of each needle, all around the Addi. Take a marker, and make the needle numbers visible! This will save you SO much grief over time!
Secondly, you'll work best with these tools: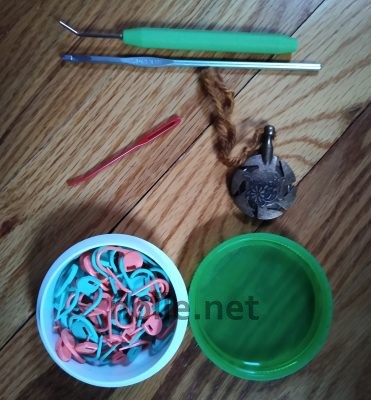 You really do need a sock hook – it's fine enough to pull fiber wisps out of nearly hidden spots where they may hide. It's invaluable when replacing dropped stitches.
Ditto for a slender crochet hook. These two hooks are your recovery tools in the event of trouble.
The red plastic yarn needle came with the Addi; the bent tip is especially useful.
The Clover cutter — that brass-looking disk — is useful when you've mislaid your scissors. Scissors are fine, but this cutter is more compact.
Having lots of stitch markers lets you work as efficient and accurately as possible. I like a screw-on lid for storage; this is an OXO condiment container, with two packages of stitch markers within. You can't go wrong with a lot of stitch markers.
Other tips:
Tension is more important than anything! Keep tension as even as possible – light but firm. Do this my gently running your working yarn through your fingers on your non-cranking hand.
Ensure that yarn is always tucked under the red vanes between needles. If the crank is balking, often checking that yarns are in place under the vanes will solve the problem. The vanes help keep tension even; check them often!
Keep an eye on the small red teeth in front, and on either side, of each needle. If the crank is balking, there may be a thin thread caught on either side of the tabs.  It will need to be placed properly to keep the loom knitting.
Trust the machine! If the crank won't turn, there is a reason. A tiny strand may be caught in the small red teeth, or under the lower indentation on a needle; a stitch somewhere may be twisted; tension may be too tight around a needle. Explore and adjust, as needed.
Watch out for stitch 1 when you cast on. It will cause grief if given any opportunity at all. Make sure it stays in place during those critical first rounds.
Here's an unexpected complication that has caught me out too many times: If the crank won't turn at all, you may have accidentally flipped the red lever on the side of the loom, and may unknowingly be working in a mode you didn't choose. Don't force the machine; investigate!
As you knit, keep a close eye on the small red teeth, ensuring that yarn stays in place. It's a lot easier to fix a dropped stitch if you catch it immediately.
Using one color of stitch marker for each step makes it easier to orient as you build the heel and toe.
Know where your crank is at all times. Turning backwards, even slightly, can result in a dropped stitch.
Sylvie Rasch says that proper socks require two strands of yarn used at once. She uses one strand in her video so that the stitches are easier to see while learning, and that's a very good idea! (I used Caron Simply Soft, Lion Brands Basic Stitch, and Lion Brand Fisherman's wool, in single strands, while learning.) Single strands of these Gauge 4 yarns yields a big, slightly loopy stitch, and a loosely knit sock. When I doubled the yarns things got complicated, but one strand was definitely the way to go while getting to know my Addi. Post to come.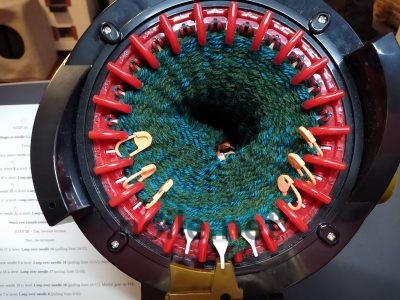 First part of toe, with peach (?) colored markers. I'll use a different
color stitch marker for the second part.
Related Addi posts: