A Brief History of More Socks
January 31st, 2022
Warning
: Undefined variable $comments in
/home/public/wp-content/themes/inove/single.php
on line
18
Leave a comment
Go to comments
Here's a quick over-view of some of the socks I've made so far on my Addi Express, to a point, and otherwise not mentioned.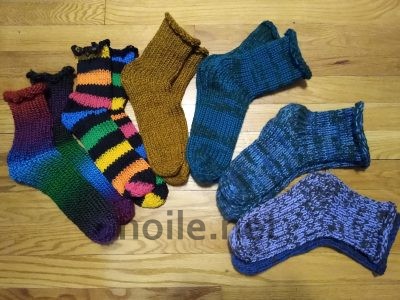 The reference numbers refer to casting-on, not to actual full socks completed! I've cast-on a lot of experiments, toes, and heels, and what-not, which never materialized into full socks.
Cast-ons 81 and 82 made up in single-strand Lion Brand Basic Stitch in gold heather. I dropped stitches in the heel, which I fixed, but that wasn't really satisfactory. The knit is a bit loopy, and clearly won't wear well, as stitches open at heel when the socks are walked in. I absolutely love the color(s) of this yarn, but it's synthetic, and otherwise meh.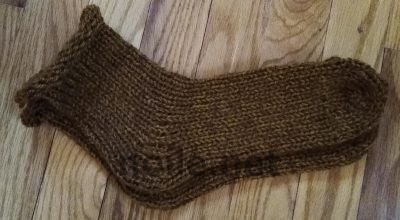 Socks 86 and 87 are in single-strand Lion Brand Landscape. The colors are stunning, but the yarn is horrible: It's aggressively artificial, and very prone to splitting and threading. Thumbs down.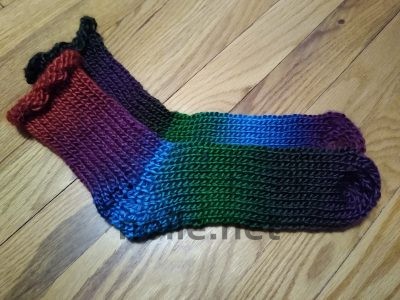 I'm using mostly yarns from stash, and I'm not fussed about
matching stripes. A little chaos on the feet is just fine by me!
Socks 87 and 89 are single-strand from an unknown yarn I also had lying around. It's obviously acrylic, and works up as loopy on the Addi. The stripes area lot of fun, but the yarn is ugh.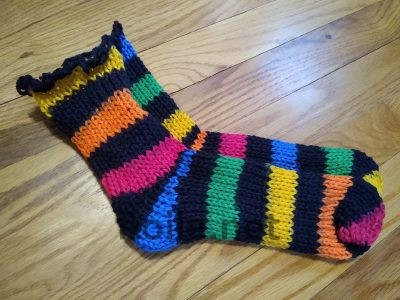 Socks 91 and 92 (which aren't shown in the group image above, but are getting tossed in for good measure) are from single-strand, Italian wool-blend yarn. It's a lovely yarn, but too thin for a sturdy sock on Addi's size 9 (?) needles. I used it single strand. I don't like the colors much; They're too bland to really send me. I bought this yarn online, where the colors looked both deeper and more vibrant. This yarn will need to be doubled, or used with another fingering yarn, to make a better sock on the Addi.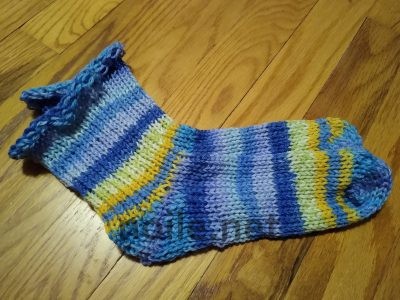 That's the update so far, but, unsurprisingly, more are in the works!
Helpful Addi posts: