Addi Socks 93 and 94
January 29th, 2022
Warning
: Undefined variable $comments in
/home/public/wp-content/themes/inove/single.php
on line
18
Leave a comment
Go to comments
This pair is the result of casting onto the Addi Express for the 93rd and 94th times.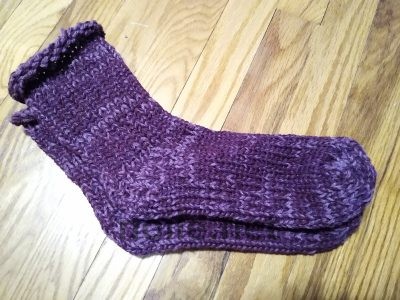 These look purple in my monitor, but they are
actually shades of burgundy and dusty rose.
And they are the first pair I've made which have no mistakes! (Uh, maybe I should say that they have no mistakes that I noticed?) No dropped stitches, no pulls, and even tension in the heels and toes. (Though that latter is complicated, see below.)
This pair are double-strand, knit from a cone of Harrisville Highland in burgundy, and Lion Brand Wool Ease in Dusty Rose. This combination makes a lovely, dense, hiking-weight sock. I think they're marvelous! But . . . the thickness of the combined yarns is really difficult for the Addi to handle when increasing and decreasing for the heel and toe. There's just an enormous amount of bulk to deal with, which slows the knitting process and requires great vigilance. I'm still inexperienced, but it seems to me that I have little control over the tension in the heel particularly, as there's such a small range possible while shaping it when the yarns are so thick.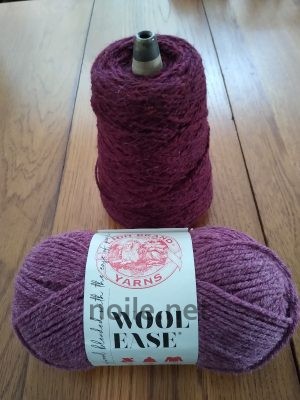 I suspect the ideal weight for the Addi is probably a double strand of two fingering yarns, so that's what I'll try next. Perfect, of course, would be a single yarn that is just the weight of two fingering yarns, so I'm still looking. One issue is that it's difficult — and maybe impossible — to control the design when using two strands. In terms of color distribution, you get what chance offers, as it's very difficult to feed two yarns of slightly varied weight perfectly at the same rate.
A single yarn of the right weight, in a good yarn, might give me exactly the socks I want.
Helpful Addi posts: