No. 10 Ebony Dress
January 31st, 2022
Warning
: Undefined variable $comments in
/home/public/wp-content/themes/inove/single.php
on line
18
Leave a comment
Go to comments
Clothing has taken a back seat around here for quite a while now, but there's stash to be used up, and, someday, maybe, clothes will be needed again. I have been eyeing *Wool&'s Rowena merino dress for quite a while, but couldn't convince myself to buy it: the neckline's all wrong for me; everyone complains about the pockets; and there's the whole agony and waste of online sizing.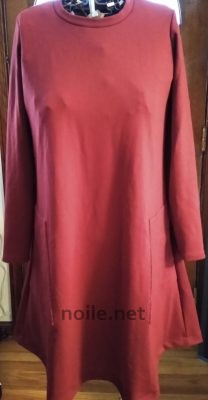 But I want at least one merino dress along those lines — and it's time to start thinking about making clothes again. Why not begin with something that will act like pajamas around the house, but go outside — if that's ever possible — perfectly well? That was my thinking, so I grabbed some ponte, bought long ago from Fabric Mart, Closet Case's Ebony Dress pattern No. 10, and went to work.
This is a wearable muslin, so I didn't fuss much with it. (And no, I'm not going to get into the "wearable muslin" wars. I really hope that we're all mostly over creating totally experimental fittings that just get tossed. If I need to muslin it, and it's half wearable, I'm gonna be wearing it, not putting it in the trash because it's not perfect.)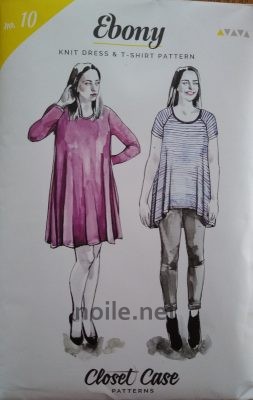 As it happens, there's nothing really wrong with this muslin. I made view A, with conventional set-in sleeves, and cut a size 8, but I took in the sides a lot. This dress has a huge amount of swing — which I'm sure feels great to wear, but would just drown me, given my smallish stature and my vertical challenges.
I also put a seam up the back — even with the skirt width diminished, this pattern is a fabric hog; adding the back seam let me cut it from the limited yardage I had on hand. That's really simple to do, and didn't take any time.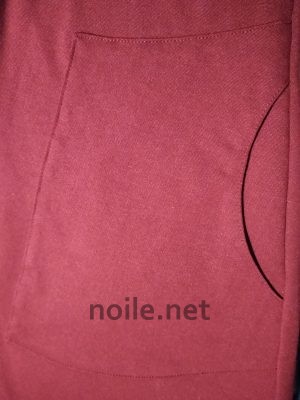 The pockets took a little more time — but there's no point in a garment without pockets. I fiddled around with shape, size and placement, and ended up with these. Knits don't offer much support for pockets, so these are fully lined with a light quilting cotton. There's no way your average oversized and heavy device will ride in them easily, but they should be good for just about anything else. I like the half (quarter?) moon slice for the opening, and the curves mirror the curve of the hem.
The entire dress takes not much longer to make than does a t-shirt, and the construction is basically the same. (Well, except for the skirt and pockets, the garment is basically the same!)The pockets added a bit of time, but not much, especially since they slip into side seams, so there's no serious fussing about placement.
I'll wear it as a tunic, unless I end up making a couple of longer versions. Now all I need is the right merino!
*That's the word "wool" with an ampersand attached. Not the best choice for an internet name, since the ampersand isn't going to render in some circumstances, but there you are.