Five Fingers — Yes, Baby!
OK, this is a controversy I can't avoid.  Five Fingers!  Lsa, of As I Said . . . , has been scarred by an encounter with my favorite kayaking shoes: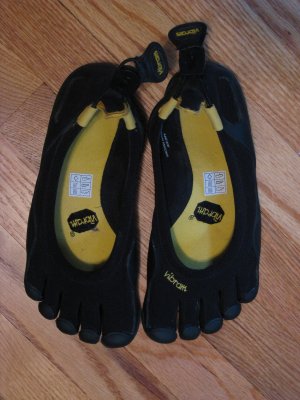 Now, I agree with Lsa's main point — even I have to admit that these stupendous, wonderful, incredibly comfortable foot-coddlers are NOT  fashion-forward.  BUT I feel compelled to rise to their defense (I've done it before, though with a different focus).  If you like having bare feet, you'll probably love these things — it's bare foot without any of the drawbacks.
So what do you think?  If Vibram made them transparent (so that they were essentially visible), could we wear them with real clothes and mainstream them into our fashion consciousness?  I'm  just suggesting .  .  .
Related:  Five Fingers for the Feet