Five Fingers for the Feet
I tried on these shoes last year at a sports store in Philadelphia. I didn't get them at the time because I wasn't quite sure how I'd use them, and, well, the clerk was a real jerk. (It's the principle of the thing.) This year I have a brand-new kayak, and the idea of paddling with almost-bare feet was irresistible, so I bought these Vibram Five Fingers shoes from REI.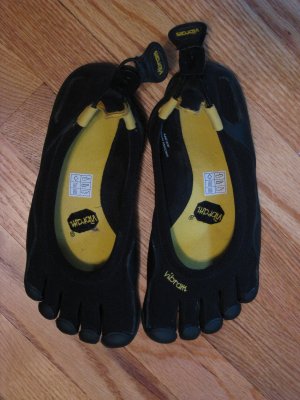 The "fingers" are really your toes, of course. There's one protected pod for each of your little piglets. Wearing these is like going barefoot, but without the incidental pain or discomfort of stepping on random twigs or small pebbles when you're outdoors. They provide enough protection that you can stride around without fear, but you also feel the ground in a way that is almost wonderful.
Putting them on the first time is a bit of a strange experience and getting used to putting each toe into its own little pocket seems weird at first, but quickly becomes second nature. I always wear shoes with roomy, boxy, toes, but the feeling of freedom this footwear provides surpasses anything else that goes on my feet.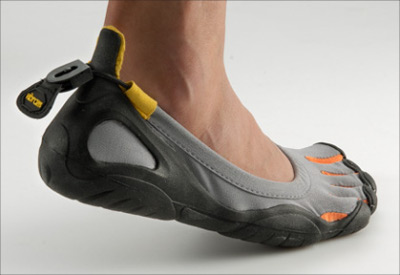 I do spend much of the year going barefoot in my home, walking on hardwood floors. People who don't go barefoot regularly might find that there's some ramp-up time before they're used to Five Fingers. The manufacturer even recommends wearing them only a couple of hours at a time until they're familiar. I padded around the house for a few hours a day a couple of times, but on me they felt right instantly.
They're perfection in the kayak. I have to wear a life vest, but otherwise, I prefer as few layers as possible between me and my boat. It's smart to wear shoes, though — there's nasty stuff on those there lake bottoms and river banks, and sometimes we like to hike in a bit and picnic while on a longer paddling trip. These feel like a second skin, but protect like a shoe.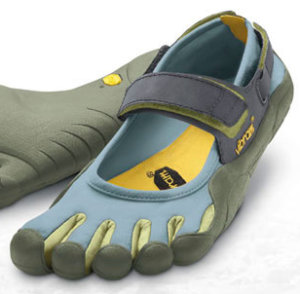 Five Fingers sells the model above specifically for water sports, but I didn't like the fit of the top of the shoe, or the way the strap lay on my foot. The worry is that you might lose an unstrapped shoe if you go overboard. So I did a simple mod — I just wrap elastic straps around each shoe while I'm in the kayak. I suspect this would be enough to keep them on my feet, and it's easy enough to pop the strap off once I'm on land.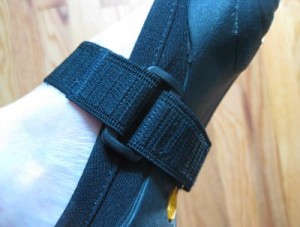 Making the straps took all of five minutes. I used black one-inch wide non-roll elastic, folded one end over a rectangular loop, folded under the raw edge at the other end, zig-zagged everything in place, and added hook and loop closures. I put the rectangular loop next to the side of my shoe (where I won't feel it), and tuck the part that hook-and-loops closed under my instep. Eventually, I might wear out the elastic under the sole, but making new straps obviously won't be much of a strain.
Five Fingers are machine washable (some reviewers — mostly runners — have noted that they get pretty grotty) and they are vegan-friendly. If you order them directly from Vibram, there's a re-stocking fee; REI doesn't carry them in our local store, but they are typically fantastic about returns, and there's no shipping charge if you pick them up at an REI store. City Sports has them on their website, and may still carry them in their Philadelphia store, too.
Update:  April 2010 — our local REI has Five Fingers in stock, though they've been going fast. And Mr. Noile loves his, too.