Return of the Pfaff
On Wednesday, I discovered that, owing largely to circumstances beyond the store's control, my Pfaff was still waiting to be fixed, and not likely to be touched for at least a few more weeks. So I retrieved it, since I couldn't live with the idea of storing it at the repair shop.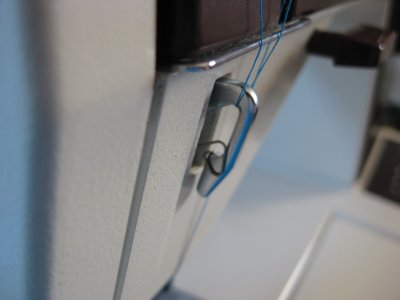 The problem seems to be the check spring, which keeps the thread from going too slack on the front of the machine on its way to the needle.  That's it in the picture above — the part is both the spring (normally the thread would go under the spring), and the curved metal part it's resting on.  The check spring is catching and grabbing the thread where it shouldn't, for some reason.
The jacket I'm working on right now is linen, so the fabric isn't particularly demanding. As a result, I've been able to use my Pfaff through the expedient of bypassing the check spring, and tightening up the tension discs a bit. It's working for this woven fabric, but the next garment in the queue will be made of silky polyester, so I'll probably have to go back to my Singer Fashion Mate for it.
Whatever's wrong doesn't seem to affect the buttonhole function (in spite of the fact it's tension-related), and I really can't do quick, simple buttonholes with either of my other machines. So I've now finished the buttonholes in my black Vogue 8499 pants, and am getting on with my next garment — a Vogue jacket.
So my Pfaff is home, but it and I are kind of in limbo while I figure out the next step. Which may be ordering the part on the Internet, and slapping it in. I haven't decided yet if this is a less-than-bright move, but the motivation level is high. The fortnight I went without this machine was not fun. If my kind-of-local shop can't fix it, and I send it away, it could be months before I see it again. That would not be good.
Update 5/26/08 — Added photo.