"My Double" Instruction Booklet
Miss Bedelia was originally shipped with an instruction booklet, which I was lucky to find on eBay.  It's got very complete directions for fitting the dress form, and is, all in all, a marvel of clear English.  Which is more than I can say for any other instruction manual I've seen in, say, the last 30 years or so.
Here's the cover: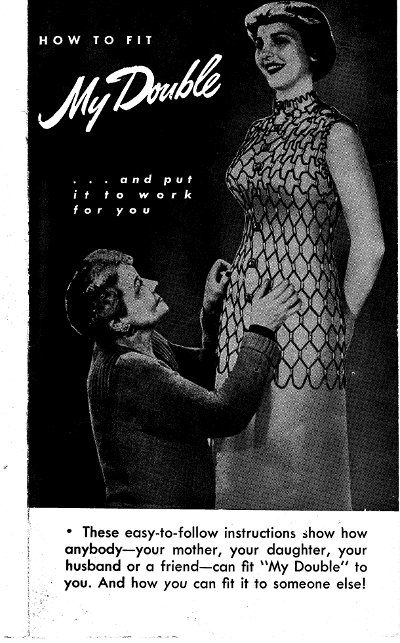 Page One, emphasizing the wide variation of suitable sizes (including the suggestion that "Aunt Jane" may be "a size or two, or even three, larger than you":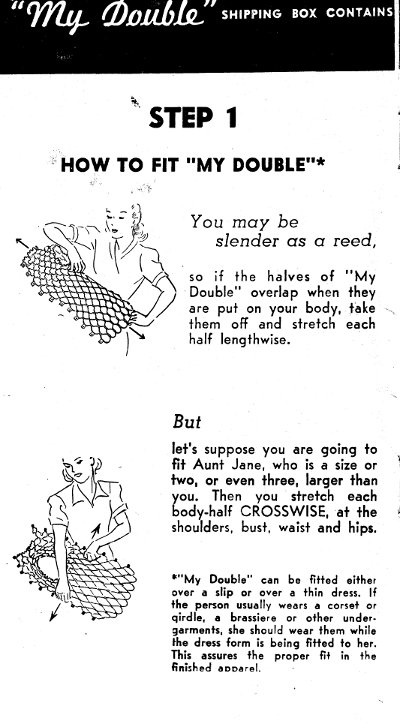 Page Two, fitting the halves to Aunt Jane (the implication here is that you'll need a helper to fit "My Double", and that is correct.  Very correct: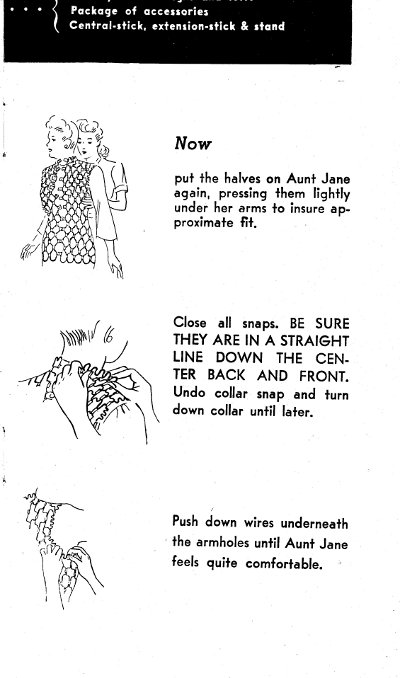 Page Three, a description of the two distinct types of meshes, and how to adjust each properly: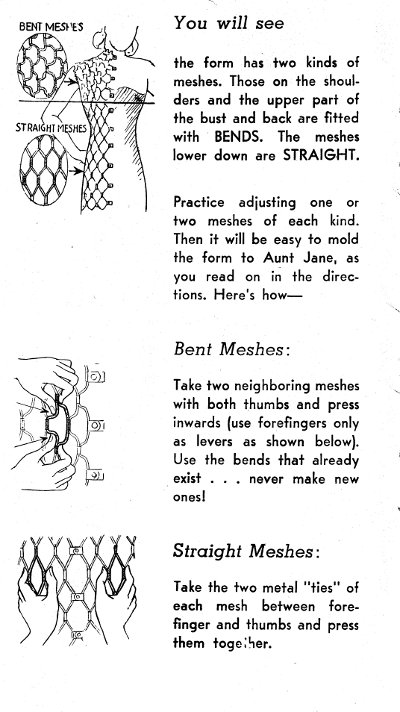 Page Four, molding the form to the body in question: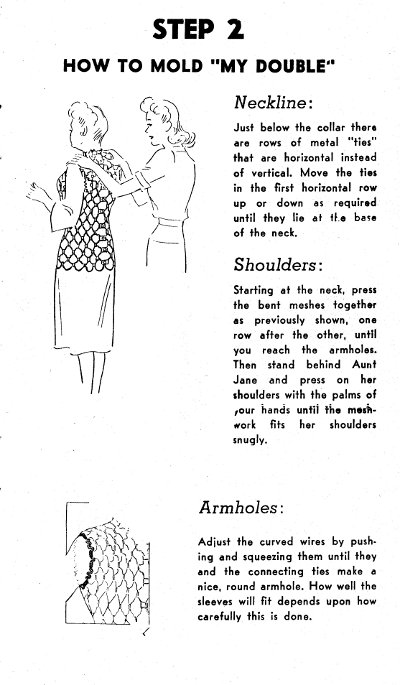 Page Five, fitting the bust, upper back, waist, lower body, and collar
Page Six, double checking and removing the form: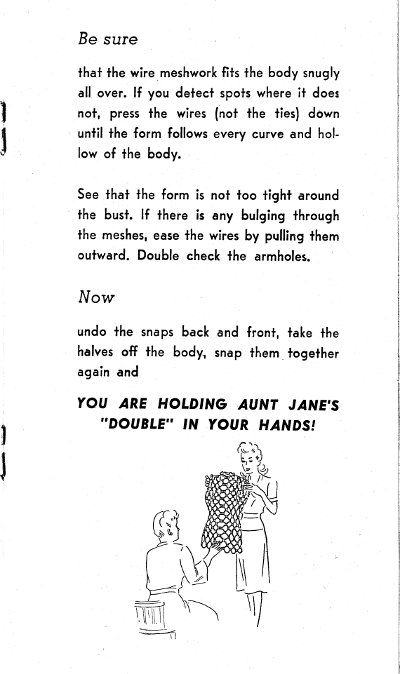 Page Seven, assembling and adjusting the stand: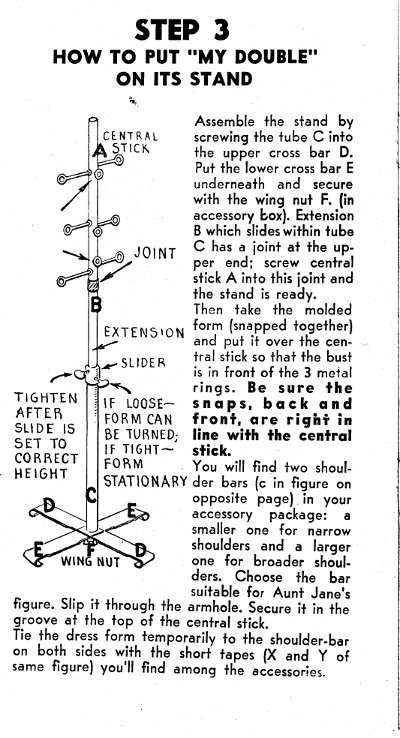 Page Eight, using the adjustable sliding rods to make the form rigid on the stand: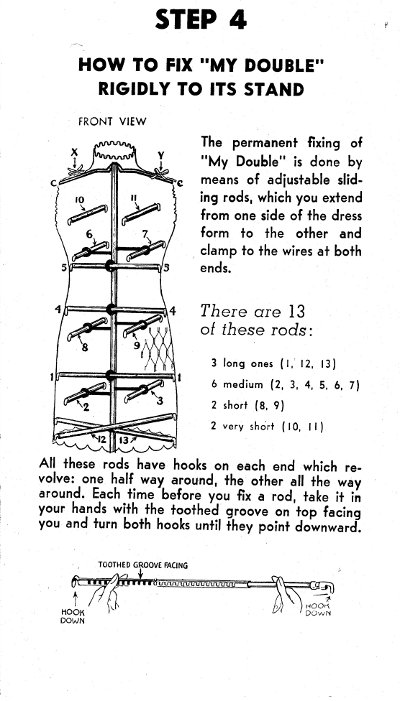 Page Nine (to be done before the steps on page eight), checking Aunt Jane's posture to ensure it's duplicated correctly: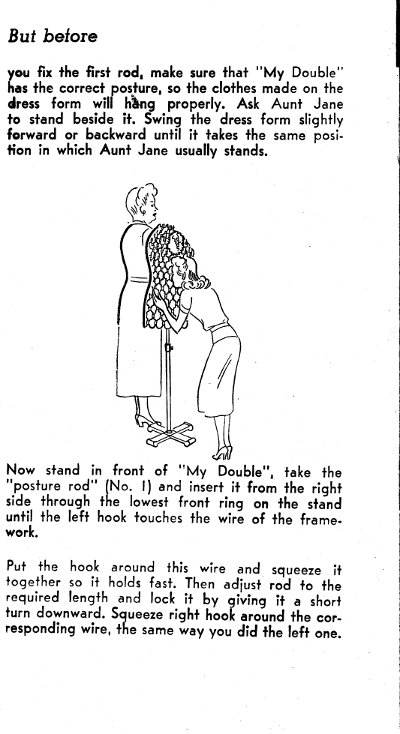 Back Page, attaching tapes for pinning dress material to the form: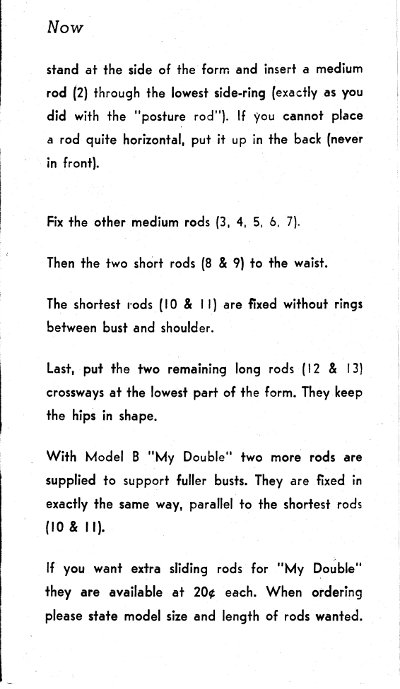 Miss Bedelia was unfortunately parted from her internal rods at some point in her life.  I am still debating how, and if, I need/want to replace them, since I suspect there is little or no chance of finding anything like them at this point.  Unless, of course, a miracle occurs, and I run across them in someone's old donated sewing supplies at a thrift shop.  Here's what they look like, in a bit more detail: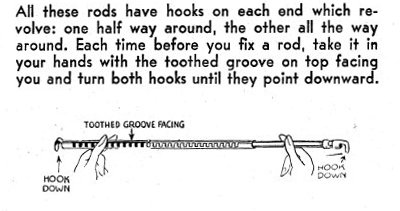 You can understand, I'm sure, the longing with which I read this note on page ten:
If you want extra sliding rods for "My Double" they are available at 20 [whoa — there's no cent sign on my keyboard!  talk about extinction! — ok, read that as 'twenty cents'] each.
That's the kind of time machine I'm interested in — the one that lets me order from the past!
Related:
Miss Bedelia:  My New Dress Form
"My Double" Instruction Booklet