Christine Jonson BaseWear One Leggings 622
My wardrobe plan includes three pair of leggings, all made from cjpatterns' BaseWear One pattern.  I cut the black pair just as the pattern was drafted; the cut is very, very skinny, and these are true leggings.   It's tempting to think that "leggings are leggings", but these are very nicely shaped, and I'll probably use this pattern again and again.  Here's the artsy cjpatterns envelope sketch: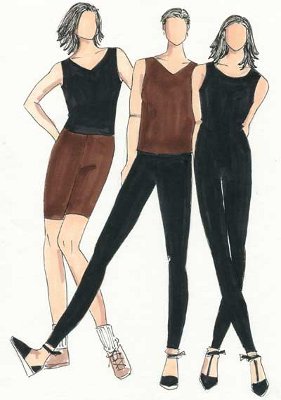 I made the black ones exactly according to the pattern, and they are true leggings:  they fit like slightly loose tights.  I wanted the medium blue ones to be less narrow, so I cut them  about 1.75 inches wider on each side (legs only), thinking that they would be closer to pants-width than to leggings-width.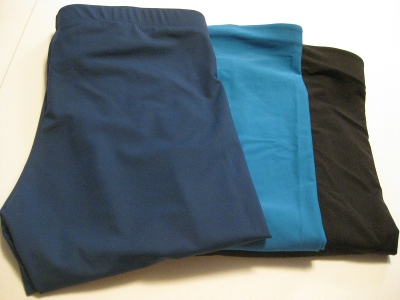 Naturally, I failed to check my math, or to consider that the medium blue fabric has less stretch than the black;  I ended up with another pair of leggings, not quite as slim as the first ones, but still too slim to wear without tush coverage.There's even less stretch in the dark blue  knit, so I reduced those seam allowances by an additional 1/4 inch, which worked perfectly, but made them, also, much closer to leggings than to slim pants.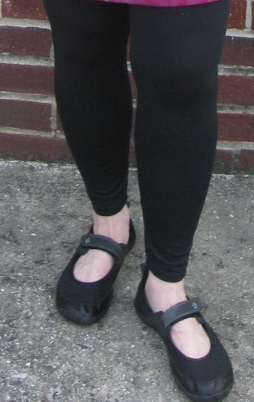 (The image is foreshortened, but you get the idea.  The shoes are Merrell "Barefoot" Pure Glove Mary Janes.)
The pattern is very simple,  and I made only three alterations:  Length, of course, because I'm short (I took some from the thigh, and some from the calf, to keep the proportions right), and I also lowered the waist line in front slightly, to fit my body better.  I also removed the casing allowance from the waist.
Jonson instructs stitchers to use one-inch elastic and make a casing; I don't like casings in stretch fabrics, so I simply attached the elastic to the right side of the fabric, turned it, and stitched it vertically at center front, back, and sides to hold it in place.  I used one-inch elastic in the black pair, but wide elastic on the medium blue, as I usually prefer it, and treated it the same way.  I did the same thing on the dark blue pair, using inch-and-a-half elastic, but stitched along the lower edge of the elastic to hold it in place.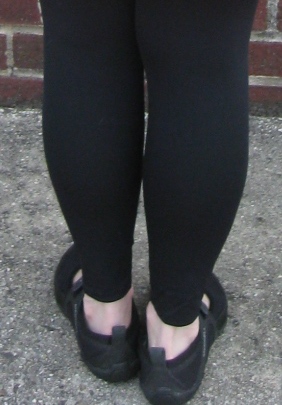 In my wardrobe scheme, these are really meant mostly as underpinnings for cooler days or evenings, so there's not much chance I'll post a picture of them actually on me you only get to see the lower legs here.  At least not one showing the tush area.  They'd be fine in exercise class, but probably attract too much of the wrong kind of attention anywhere else.
7/23/2011: Updated to add images, because I realized I had a couple of decent (non-tush) photos!
Related:
Christine Jonson Princess Dress 1117
Christine Jonson Basewear One Top 622
Christine Jonson BaseWear One Leggings 622
Tunic/Tank Dress from BaseWear One Pattern 622