Buttons Galore
I think JoAnn's just supplied me with the button box of my dreams.  It's sad, though:  At least in my area, JoAnn isn't  going to carry JHB buttons any longer.  I walked into our local stores and discovered that all JHB buttons were on clearance, priced at 25 cents to 97 cents.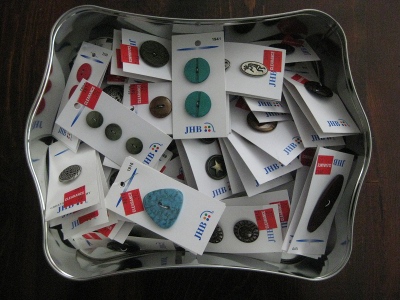 Here's the haul, spread out on a table: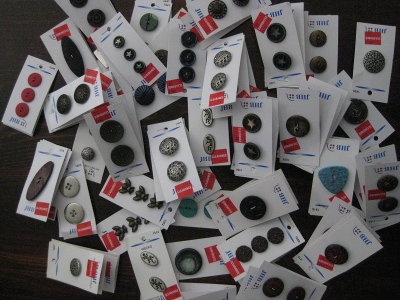 Guess I won't be buying buttons for years!  It might be worth a trip to your own local JoAnn to see what you can score, although the walls I encountered were well-stripped even before I got to them — my haul was fron the dregs.
Some dregs!  I'm a happy camper, but sad that this line won't be locally available any more.
By the way, I stapled like cards together before tossing them in the box.  That way I'll know exactly how many of each set I have without undertaking a frantic search when I need specific buttons later.