Vogue 7997: "Muslin" Version
It's an off-the-shoulder tee (essentially), sleeveless, with 3/4ths sleeves, or with long sleeves: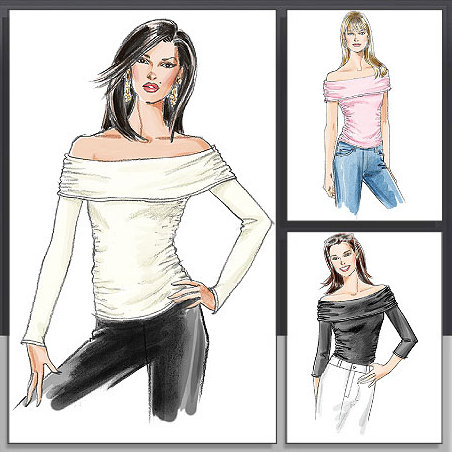 This one turned out to be a genuine muslin.  I'm never going to finish it!  Even so, I'm very, very happy with it:
Yeah, my collar's completely different.  That's because the Vogue collar isn't wide enough to gather at the sides as shown in the pattern.  Or at least it didn't work at all in my rayon/spandex knit.  It just lay there, limpishly, looking kind of cheap.  If you really want the look of the collar on the pattern envelope, I'd recommend cutting it at least 50% deeper so that there's something to gather, and some substance to the thing.
However, I said I'm happy!  Here's why:  Ever since I first saw Countourwear's hoodie, I've wanted it.  Making this pattern was the first step toward recreating this: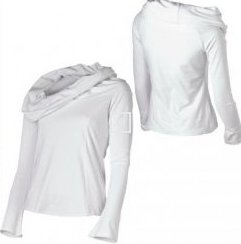 The point of the exaggerated hood is versatility.  It can be a hood; it can be a cowl worn backwards or forwards; it can be an over-sized, off-the-shoulder "cuff"; it can rest around the neck like a loopy, over-sized turtleneck.  All things to all women!
But I wanted it to fit me just the way I preferred, and that meant making it myself.  (Not to mention that it's no longer available at Countourwear.) Wrong!  A new version is available; it's just impossible to find anything on their website.  Not to mention that you don't get even the slightest hint of how versatile this top is from anything on the current website.  Here's the hoodie available now (I can't link directly to their current page, thanks to their really dumb web design):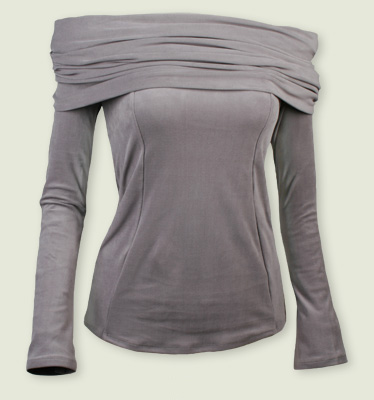 The princess seams are a really, really nice touch that the original didn't have.  Mine doesn't have them either, but that's OK; it's exactly what I wanted.  I made my "muslin" version with three-quarters length sleeves: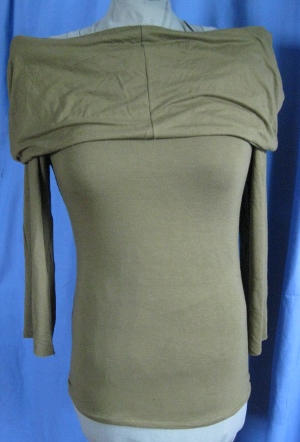 When the Vogue collar on my muslin flopped, I drafted the collar I really wanted — it's just an extended version of the old one. Really extended — it's 16 inches longer.  I just grafted on the extension for this practice run; that's the ugly serged seam you can see in each picture.  When I added the new cowl, I sewed it onto the shirt opposite to Vogue's instructions.  Attaching the collar right side to right side means that the finished seams show when I'm wearing this as a hoodie.  Here's the hood, in the draped configuration, in back: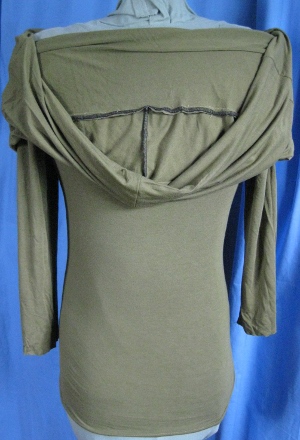 The collar piecing is ugly — that's why I'll never finish it — but later in the week I'll be making the real top.  Size-wise, I cut a 10 everywhere but the bust, where I enlarged it to a 12.  This quasi-FBA works well for me with the right knit.  I did use thin twill tape to stabilize the back of the neck from shoulder seam to shoulder seam to keep it from stretching; the fit there was nice, and I wanted to keep it that way.
Vogue calls for elastic in the side seams as well as the collar, to make the top look gathered, but I wanted to control the look each time I wear it, and liked the top extra long, so I skipped that step.
Related —  Vogue 7997: The Real Thing