The LBD (Times 365)
Uniforms.  It's what we sewists hate, right?  But what if you only had one dress — say, one LBD, like this one:
Sheena Matheiken began an experiment in fashion sustainability in May, 2009.  What if she were to wear only one dress for an entire year?  365 days?
How do you design a dress that can be worn all year around? We took inspiration from one of my staple dresses, improving upon the shape and fit to add on some seasonal versatility. The dress is designed so it can be worn both ways, front and back, and also as an open tunic. It's made from a durable, breathable cotton, good for New York summers and good for layering in cooler seasons. With deep hidden pockets to appease my deep aversion for carrying purses.
Actually, there were seven dresses, all identical, because, I suppose, doing laundry every night isn't anybody's idea of sustainability.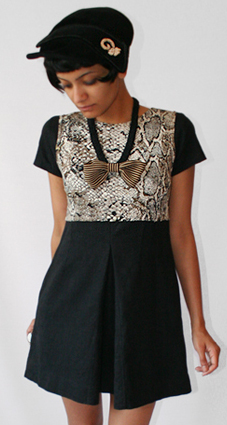 The dress part of the project was intriguing enough, but Sheena and her crew went one step further.  They called the exercise The Uniform Project, and turned it into a fundraiser for a group that educated children in India.  Here's how Sheena described the other part of her mission:
The Uniform Project is also a year-long fundraiser for the Akanksha Foundation, a grassroots movement that is revolutionizing education in India. At the end of the year, all contributions will go toward Akanksha's School Project to fund uniforms and other educational expenses for children living in Indian slums.
Here she is on July 10, wearing her LBD as an over-dress.  The red trim is under the dress, and then picked up again by the belt: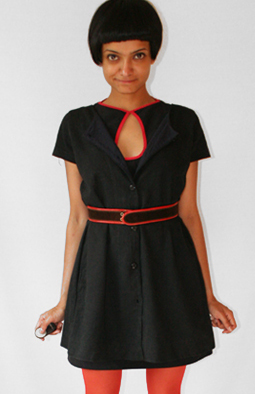 Halfway through, celebrating the sixth month anniversary of the Project.  The front pleat gave her enough room to add a petticoat beneath.  Add a collar, a satin cummerbund and those great gloves — and wow: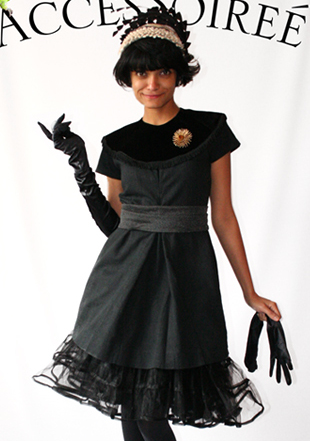 On January 5, with a t-shirt under and a sweatshirt pastiche-of-a-corset providing a burst of color: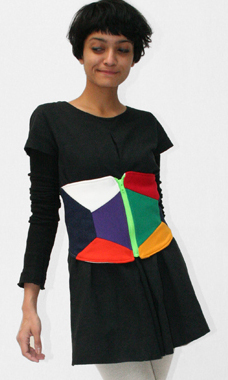 On March 24, with just a big belt, a cowl and exuberant tights: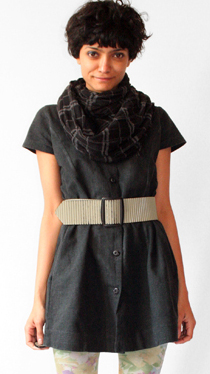 On January 21st, an over-T and a wrap belt:
There's more, much more at The Uniform Project.  Click through the calendar at the left to see each day's image.  Sheena is adorable and gamine, but there's plenty of inspiration for those of us who are neither.
Sheena's styles get quite wild and crazy; I've deliberately chosen the most conservative in deference to those of us who like character, but who aren't gamine types (or very young women) ourselves.  But every day of Sheena's project is worth viewing — it's a real treat.  And, though the Project is over,  it's not too late to donate to Arkanksha, either, if you like.
For fashionistas, there are notes for each image describing the accessories, etc., all of which were thrifted or donated to the Project.  As of today (May 19, 2010) the Uniform Project has raised $94,742.00, enough, they say, to keep 263 kids in school through the Arkanksha Foundation.  The fashion may veer toward the wacky, but there's no more down-to-earth goal than educating tomorrow's adults.  Good work, on all fronts, Sheena and crew!