Papercut Sapporo Coat
First of all, this is a review of the old pattern, and the corrections to it made by Papercut, not the re-issued new version. Secondly, the coat is wonderful; the pattern (and "correction") is a hot mess. Let me count the ways.
I was dreading making this pattern. By the time I began thinking seriously about using it, Mie of Sewinglikemad had written an extensive critique of it, detailing a batch of critical errors and omissions. These included pattern parts which didn't match up, missing seam allowances, a useless lining pattern, and poor instructions. In the aftermath, it became clear that Papercut had been deflecting previous criticisms, and had otherwise ignored these issues as they were brought up by customers.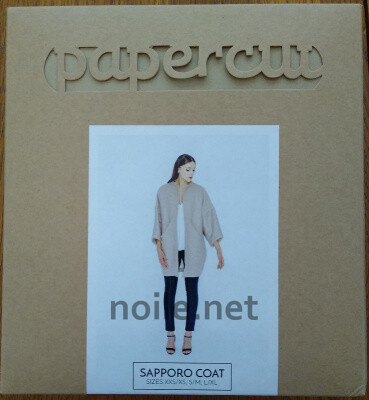 Papercut pulled the pattern after Mie's post drew wide-spread attention, and eventually modified and re-issued it. A download was offered to previous purchasers, which I acquired, and armed with that and Mie's very helpful explications, I finally got around to tackling this coat. Mie hadn't actually made the coat when she struggled with the pattern; now I've done it and Mie's commentary (and more) has become real.
The story here really isn't the coat I ended up with; it's what I had to go through even before I cut it out. So, let's begin with the end:
My coat is made of a cotton-blend sweatshirting from Club Tissus. I loved it so much I inadvertently bought two separate cuts on two successive trips to Montreal; I'm afraid the face may pill, but the wrong side is incredibly soft and lovely to wear.
The lower facings end in beautiful right angles, but only if you fix the pattern.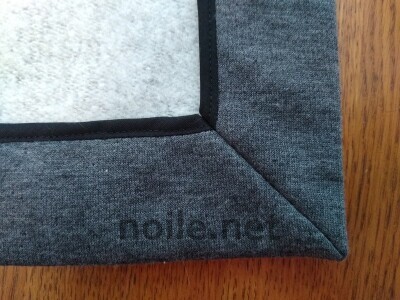 I hoped that the edited download would spare me the pain of having to draft my own fixes to the pattern. Originally, of course, I bought a paper copy so that I wouldn't have the additional expense and bother of printing out the pattern, assembling it, and taping it together. After the response to Mie's critique, I'd assumed that the errors would be noted, access to those sections of the pattern would be easy, and I'd be on my way.
This was not the case.  If I wanted to locate and use the alleged corrections in the corrected download, I was going to have to assemble the entire packet. As I'm well beyond the point where I want to spend an hour or two on my hands and knees putting together barely-notated pattern sheets, that was a no-go.
So it was up to me to figure out how I wanted to make up for the discrepancy between a facing that was folded at two inches on one end, but 2 ¼ at the other; it was up to me to figure out how to handle seams that could not meet properly because there was a huge discrepancy in length between them; it was up to me to fix each and every error.
And in the end, I didn't get it quite right, which is really irritating.
This aggravating labor was complicated by very little information on the pattern itself – indications of fold lines (or at least notches which matched up) would have helped (and possibly clued Papercut to the issues at hand?). Because the pattern pieces are so oddly shaped, just a few notations showing nap direction or simple labeling of things like "neck" or "sleeve seam" would have been advantageous.
Having cheaped out on the drafting, it almost seemed as if Papercut also cheaped out on the ink.
Some indication, on the actual pattern pieces, of which line to follow for which size would also have been nice, instead of unlabeled, sometimes barely-differentiated, lines. That kind of ease-of-reference is very helpful. As are seam allowance notations, etc., none of which appear on this pattern. Minimalism is not necessarily your friend when drafting pattern pieces. Or at least it isn't the sewer's friend.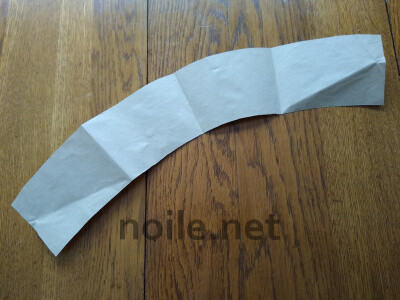 If nothing else, I thought I'd be able to use the new cuff facing from the "correction", but no – the new cuff draft wasn't compatible with my printed pattern. I had to devise my own.
Then I discovered that I'd also need to draft my own interfacings for the front opening, the hems and the pocket edges. The pattern's instructions simply say to cut 5 cm strips – essentially useless information, since each "strip" must be custom fit where it's placed in the coat.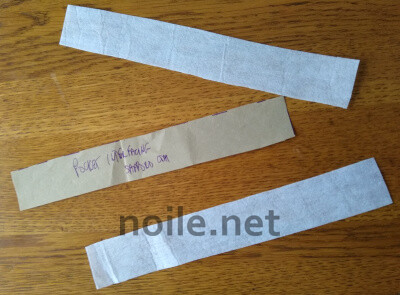 Call me petty, but this is exactly why I buy printed patterns – because I expect that the professionals who prepared the product did it right. I'm spending a lot of money for a pattern to be saved a lot of bother. Why Papercut couldn't be arsed to include these pieces is beyond me.
(At least I knew better than to attempt to make the lining. I'd tried on a XXS-S Sapporo at Stone Mountain Daughters, and noted that their version was unlined. Later on, when I read the Sewinglikemad review, I knew why – the lining pattern was too short and had no ease.)
As Teri commented on Sewinglikemad's critique, "[I]f I wanted something with so many errors I'd draft it myself!" Amen!
By the time I actually got to a point where I was able to consider cutting out and assembling the coat, I was pretty well cheesed-off. Correcting, drafting, and checking the pattern took three times as long as actually sewing the garment.
The sewing itself? Actually very simple. If the pattern were usable, it would be a quick, satisfying project.
I did one thing differently, and interfaced the hidden pocket edge as instructed, but used a heavy black twill on the pocket edge that shows on the inside of the coat. Since my version of the coat is unlined, I didn't want to see the hideous interfacing when the front opened. In retrospect, though, the twill I used (operating, due to Covid, strictly from stash) is a little too heavy. It works, but it's bulkier than I would have liked.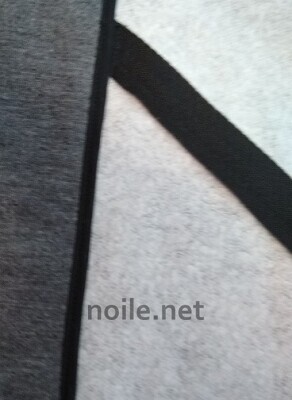 Apart from Papercut's completely unacceptable response to early queries about these issues, these mistakes and omissions are incredibly sloppy, as were the attempts at corrections. Re-issuing a pattern which previous purchasers must buy again is not a reasonable or fair response. Suffice to say, I'll never trust a Papercut pattern, and I'll never buy another one.
That's especially sad because I love the coat. In this soft cottony sweatshirting, it's the perfect all-purpose travel coat/robe/blankie. It'll get worn to death if we can ever travel again. Until then, I may sleep cuddling it.