Talvikki Mash-Up
I bought the Named Talvikki pattern strictly for the neckline, because I didn't want to draft it myself. This was just as well, since the neckline was the only part of the pattern that came close to fitting me. But ohhh, what a neckline! For someone like me, who wants to live in sweatshirts, but hates the standard styles, this collar makes all the difference.
The bottom line is that Named patterns are not made for smallish, 5'2″/157cm people. Nothing — other than the neck/collar — about this pattern worked for vertically-challenged me. Since the collar is stunning, though, I simply franken-patterned the rest, combining it with Vogue 8854, from which I'd made a batch of sweatshirts many years ago.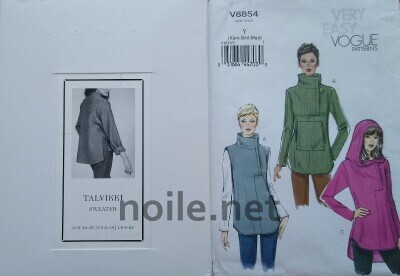 All I really did was swap out the chest area, and graft the Talvikki collar and upper chest to the Vogue pattern. Here's a detail of the collar/yoke: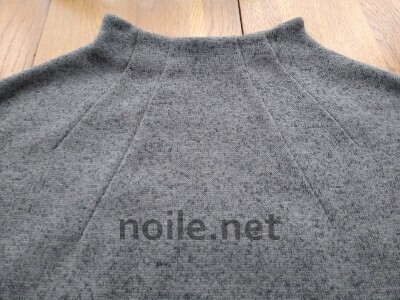 The result is not at all like the half-cropped/half-not Talvikki which looks so good on tall Scandinavians. Instead, I have a rather conventional sweatshirt tunic with a super-comfortable, wonderful-looking neckline.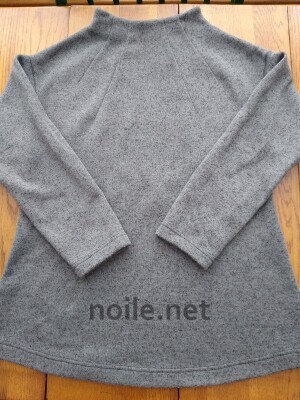 I made Vogue 8854 three times back in 2014. Below is the version in French blue (just for reference, I enlarged the pocket because I knew I'd actually use it). When I frankenpatterned it with the Talvikki, I also removed the cuffs, and, obviously, left off the kangaroo pocket.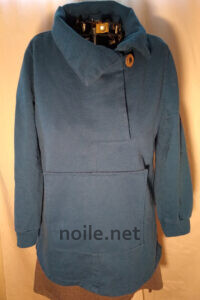 The red, below, and the blue, lower, are JoAnn fabrics from a year or so ago, and pure garbage. I fell for the colorways, but have regretted it ever since, as with every wash — only three so far — the fabric becomes more and more stiff, and pills into a texture that resembles nothing so much as felted plastic. It's not nice.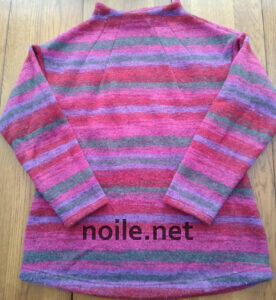 The truth is that these two are so awful now that they belong in a landfill somewhere, and that's a real shame. They were great to wear, right up until the first laundering post-construction, and I still love the colors (which are a lot more vibrant than my camera captures).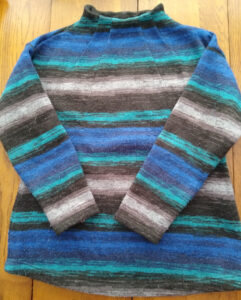 This gray is also a JoAnn fabric, but, so far, it's fared a bit better. My hopes are not high, but I'm guessing that the "fiber" content (versus "barely refined plastic" content) is a bit higher in the gray than in the ombre stripe yardage.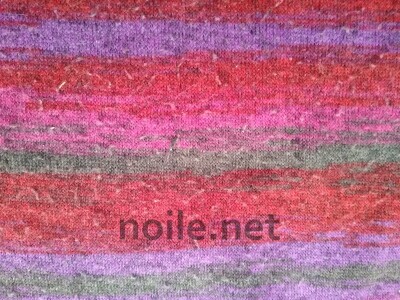 Stiff, creepy plastic slubs on a fabric I loved
(and one that generated spontaneous
glowing comments all the time when I wore it out).
Too bad it was "worn out" in a single laundering.
So many reasons to hate the very-necessary, so-
awful JoAnn Fabrics.

Construction couldn't have been simpler; in my version, at least, the only challenge is the darts. I kind of like making darts, so this works well for me — and assembly of the sleeves and tunic body for V8854 is as simple as can be.
Your mileage may vary, of course, and, naturally, I can't speak to how the instructions or drafting are for the rest of the Talvikki. But I guarantee that lovely neckline won't disappoint!
By the way, those Vogue 8854 tops from six years ago? I made them from XXL men's heavy duty cotton sweatshirts. They've been laundered probably hundreds of times since then; I live in those tops three seasons of the year. The fabric has held up stunningly well, and only recently has begun to look a bit worn. But now I can't find similar sweatshirting yardage, and I no longer can find men's sweatshirts of a similar weight or quality. That's really sad, and particularly awful since they were the most ordinary, sturdy, off-the-shelf garments imaginable. So sad.