Vogue 8854: My Kind of Sweats
This is the second time I've made this tunic.  The first go-round was an experiment:  Could I get a decent-looking top out of some men's sweatshirts?  The answer was "yes", and now there's no stopping me!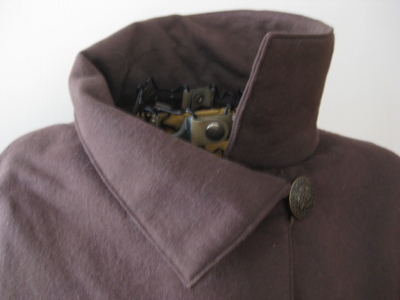 Vogue 8854 is turning out to be my best friend:  gotta love this collar  and the great excuse for featuring a single favorite button!  That's a skinny grosgrain loop around the button, below, which make a quick, no-turn, closure.  I do double the ribbon, though, for durability, and stitch along the edges before sewing it in place.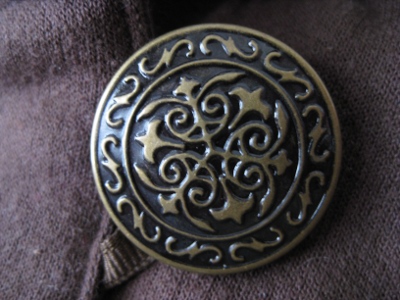 I mostly sleep-walked through making this one, and made a massive number of mistakes, all of which I was able to fix, more or less. Paying attention counts, but so does recovering when one hasn't . . . and sweatshirting, thank goodness, is the most forgiving of fabrics, providing, of course, you rip out stitches with great patience.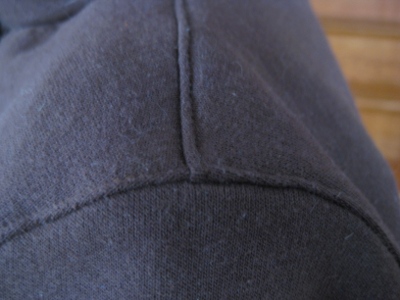 I managed to get the stuff that counts most, righ.  And I remembered the small details, like the edge-stitching on the shoulder.  That  helps define the seams, and keeps them from looking sloppy-sweatshirt-puffy.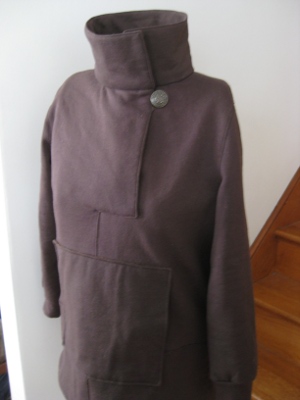 This iteration was cut from just two men's sweatshirts — one XL, I think, and one XXL, for the length.  There doesn't seem to be much increase in length as the sizes go up, so I wasn't tempted to buy anything larger.
Love this pattern!  The changes I made included sloping the shoulder to fit my own better, enlarging the front pocket, lining the front pocket, adding cuffs using ribbing from the source sweatshirts, using grosgrain instead of self-fabric for the button loop, and eliminating the shirt-tail detailing from the hem.