My Kind of Tunic: Vogue 8854
A lot of people have complained about the un-inspirational drawing on this envelope. Not me! As soon as I saw it, I knew this pattern was made for me.  It's taken months to sew it up, but my first reaction was right: Here's my new favorite garment: A sweatshirt for grown-ups!
I made this tunic out of three men's sweatshirts, largely because I couldn't find a color I liked in yardage I could purchase.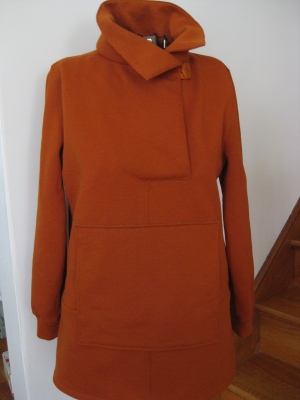 This tunic has great shaping, but the best feature is that collar — it's fantastic in a way that is only hinted on the pattern envelope!  It's buttoned and folded down, above.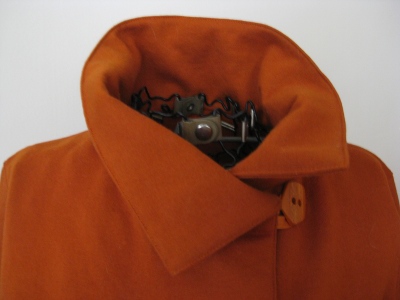 Isn't that great?  But wait, there's more! Here's the collar worn up: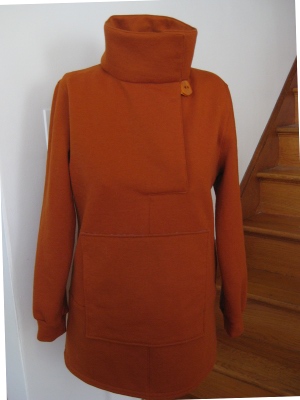 and here it is worn open: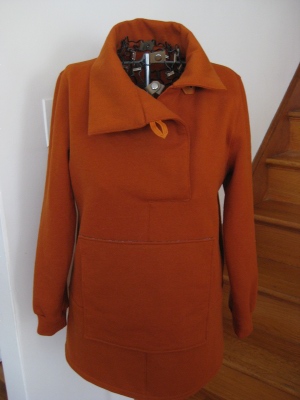 I love, love. love this tunic! All the comfort of a sweatshirt, with none of the ugly! It's also extremely easy to make, especially if you ignore Vogue's directions.  Here's a list of what I did differently, and what changes I made:
I made a size S(mall), but altered the shoulder line, which was too horizontal for my body.
Because I cut this pattern from three sweatshirts, I had to slash  the pattern horizontally to fit the pieces, and draft two new lower pattern pieces, one for the lower front and one for the lower back.  I could have cut the lower front on a fold, but I cut two separate pieces and seamed them instead, so that the original vertical seam line was preserved below the pocket.
The new lower back piece was cut on a fold, like the upper back.
I enlarged the pocket, making it wider. I didn't like the proportions on the pattern pocket as much as I wanted to, and my pockets need to work, meaning this one had to be big enough to use.
I stitched higher up the pocket opening line than Vogue suggests.  As noted above, my pockets need to work. I wanted to be sure anything tucked inside wasn't going to fall out easily.  If you do this, make sure that your hand fits into the opening!
I finished the sleeves with the original ribbing from the sweatshirts.  I love cuffs on sweatshirt sleeves, so this was a no-brainer for me. Using the sweatshirt cuffs meant that the ribbing matches perfectly; that would have been hard to do if I'd tried to buy it separately
I eliminated the curve at the hem.  I don't much like the look, and I wanted this to be more tunic/dress like than tunic/shirt like.
I edge-stitched everywhere, so I didn't follow Vogue's directions for stitching the plackets. There was no reason not to, I just prefer the edge-stitching.  Arguably, Vogue's stitching on the collar (about an inch in from the edge) is more refined-looking.
I pretty much ignored Vogue's instructions, which seem increasingly ridiculous and out-of-touch.  There's no good reason to sew the shoulder seams before doing the front plackets; all that does is ensure that you're hauling around a ton of extra fabric while working with the plackets.
Also, why would anyone set the sleeves into the armhole on a garment so perfectly suited for sewing them in flat?  I ignored this, too.
However, I did interface the collar, which I normally wouldn't have done when sewing with sweatshirting. The interfacing gives it enough body to keep its shape.  New sewists don't need to fret:  the collar is just a rectangle, so it's easy to handle.
My loop is grosgrain, rather than self-fabric; I just happened to have the perfect color on hand, and like the crispness of the ribbon.  I was lucky to find a coordinated button, too.
Heres's the back view. It's a little flat, here on the dummy, without the arms, and the shaping of the sides of the tunic gets lost a bit.  But in real life it fits very nicely, with a little bit of a retro vibe in spite of its generally classic look.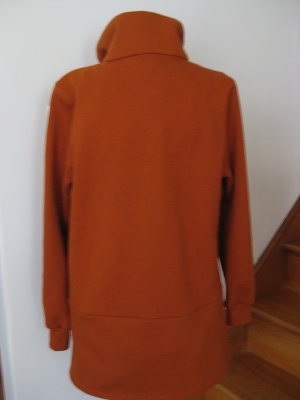 This is a very quick sew (if you don't need to make new pattern pieces, that is!) that no one need fear.  I've got another one in the pipeline, and I have a feeling this will become a favorite for years to come.  Easy to sew and easy to wear — what could be better?
It's been a long time since I blogged here — five months, to be exact. Bad blogger!  I have been sewing, but my life, for better or worse, isn't just sewing, so I haven't been writing up the projects. Maybe I'll catch up, or maybe I'll just continue to post here now and then . . . time will tell.  At the moment, I don't have a clue!