Masks? Why, Yes
Herein, a brief history of my life with masks. (Hail, Covid!)  I began researching and sewing when urgent calls went out in early 2020 from institutions desperate for any kind of masks at all.  Home sewers like me took to their machines, and produced vast quantities of the things when, somehow, our government just couldn't get it together to support our first-line medical care providers.
My own initial effort was a pack of thirty surgical-style masks with filter pockets donated to a big city hospital, quickly followed by just under 130 more of the same style donated to an assisted living facility where a loved relative lives.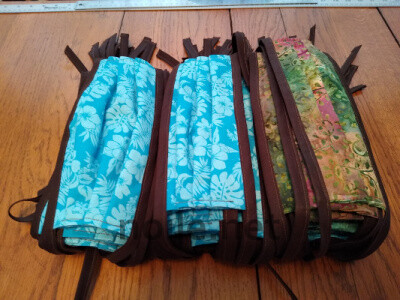 Then my bad hand gave out. This was very repetitive work, and gave me a renewed appreciation of what factory sewers go through every minute of every working day.  There are tutorials everywhere for this three-pleat style, which are great when individual sizing isn't practical, but still are pretty cumbersome to wear, compared to masks that fit more sleekly.
Eventually, we needed masks ourselves, which involved some experimentation. The fitted masks I made for us are much easier to construct, once sizing issues are resolved.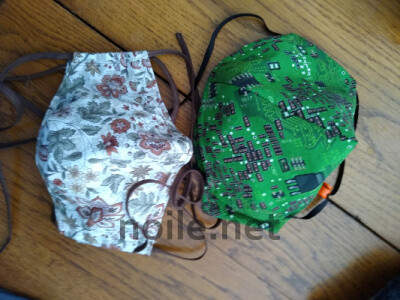 These were the first ones. Amusingly, the green circuit board print came from Amish/Mennonite country, endless source of quilting fabric of all kinds of prints, even those decidedly non-Mennonite or Amish. Those masks are a free pattern from the Italian pattern company Marfy, which turned out to be a nice fit for Mr. Noile.  My floral-print masks are the Dhurata Davies pattern, which worked better for me. 
These nice small toggles are cribbed from old MP3 player lanyards bought years ago from a bargain bin for about 25 cents apiece. (I knew they'd come in handy one day!)
I like the design below for very short-term wear, but found they weren't quite right for longer. It's an interesting pattern, though, from Artthoa162 on YouTube. I'm not a fan of video, but these instructions were easy to follow, and pausing let me capture the measurements easily.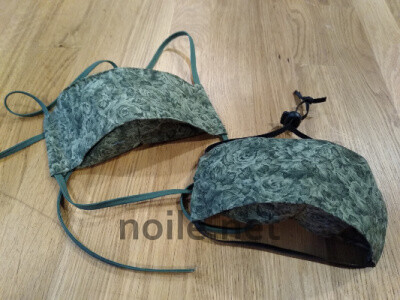 The masks below are also the Dhurata pattern, made from ancient scraps. This pattern works very well for me, and it's my preferred one at the moment. I did find that I needed to alter the angle of the chin line, though, but that's to be expected; every mask is most effective and comfortable if custom-fitted.
In front of these masks you can see the 16 gauge copper wire bridge clips which I originally tucked into pockets in the upper center, to shape the bridge of the nose. Fitted properly, this not only keeps the mask in place without fussing, but also prevents glasses from fogging. (But there's a better solution, see below!)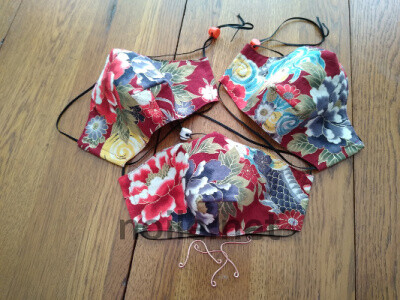 Our masks are put into a paper bag in the basement for a minimum of 24 hours before washing, and I made enough so that we can wash a small load, separately, after we've collected them. Every mask is washed after one wearing.
After the American Chemical Society published results of their testing which determined that a layer of silk between two layers of better quality quilting cotton produced a mask which comes close to the N95 in utility, I made more masks. Sourcing silk was not easy; I found it on Etsy in the end, and then made these, which have the additional silk layer.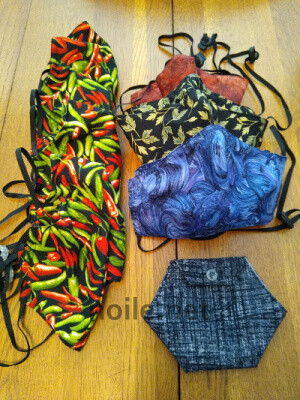 Thanks to a post by Ann, of Gorgeous Fabrics, I ordered nose bridge mask inserts from DIY Mask Shop, which I now use instead of copper wire to support the top of the contoured masks. These are a whole lot more comfortable, and much more adjustable.
In the process, I ran across the pattern for the cute little Japanese mask case on the lower right. (It's a cultural thing: is there another place on earth where people have an adorable package for everything? Show me the place!)
I'm not the one who usually goes out in our household — not that there's much going out these days — but when I had six unexpected (non-Covid) medical appointments in three weeks, I carried a second mask along. It's a lot more fun to carry this little pack instead of a plastic bag, and it doesn't slip around inside (or out of!) a purse or bag unexpectedly.