Two terrific bloggers recently posted several batches of vintage men's shirt patterns.  Lisa, of As I Said  .  . .  and Peter, of Male Pattern Boldness, both featured this vintage McCall's (no. 3087) pattern, and now Peter's decided to make it: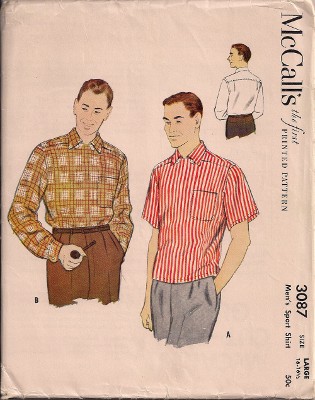 I was really thrilled to see this pattern, because I had already decided to make a shirt just like it for Mr. Noile.  (The pattern is on its way to me as I write.)  Mr. Noile lived in Japan, and has an abiding interest in many things Japanese.  A while ago, we watched a Japanese video series called At Home Dad.   The star, Hiroshi Abe, wears a shirt just like this in episode 10: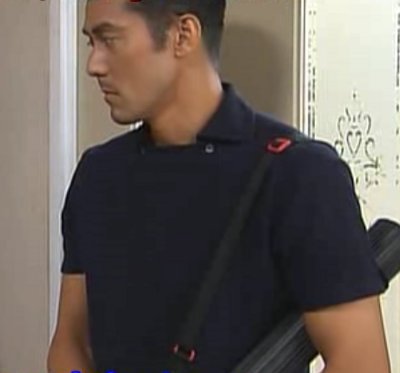 The interesting/quirky/fun feature is the closure: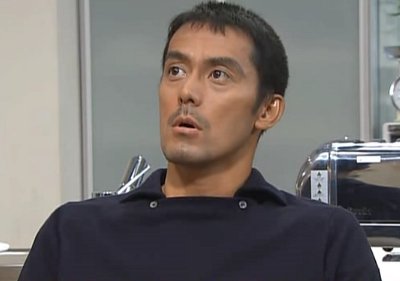 I took these screenshots when we watched the show; they've been sitting on the back burner ever since.
I'm pretty sure that Hiroshi's (or rather, Kazuyuki's — he's the character) shirt is knit, which gives it a very contemporary feeling.  However, in keeping with Mr. Noile's own at-home lifestyle-of-the-moment, I'm going to make his in flannel, in the long-sleeve version.  If he likes it, I think I'll make it in knit, with the short sleeves, for spring.
Another minor difference is the collar.  Kazuyuki's collar is cut so that the edges are flush with the chest seams; the pattern seems to have a more traditional collar, with longer points nearly covering the buttons.  Here's how it looks at the end of the day, when Kazuyuki has undone the buttons, exactly as if he's undone the top button or two of a conventional shirt:

What I'd really like to know, though, is who, in Japan, found/researched/co-opted this design?  And where has it been slumbering since 1954?