Presser Foot Storage
My Pfaff 1229 has storage for the five most commonly used presser feet on the top of the machine, but over the years I've acquired quite a few more of these handy accessories.  I store them in a double-sided box meant for fishing tackle: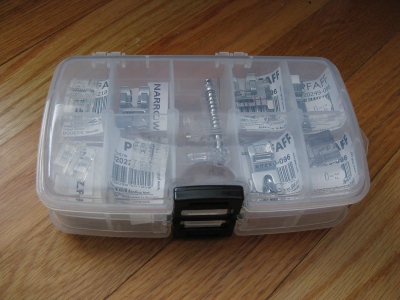 I've tucked the labels for each foot into the corresponding slot, or provided labels for those that came without.  I might go a few years without using a specific foot; this ensures that I'll have a clue what I've got when I go hunting for the right foot for a rare task.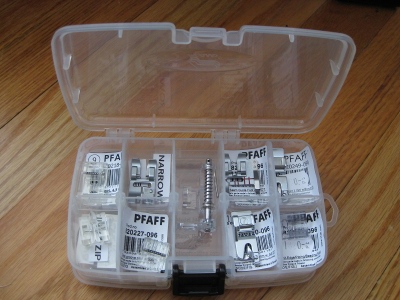 There's a loop in the end of this particular box, which makes it perfect for hanging up behind my machine: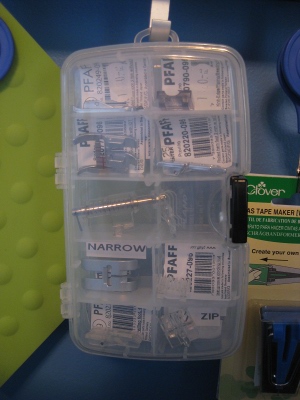 That hook solves one of the banes of sewing — not being able to find the tool you want when you most need it.  I find, too, that I'm more likely to use my "library" of presser feet if they're handy; that's made my sewing easier and more efficient.  And more fun, too!
By the way, if you own (or acquire) a wonderful Pfaff 1229, presser feet and accessories marked "D" are the ones that fit your machine.  I'd suspected this for years, but many of my feet also fit other machines, so I wrote to Pfaff customer service recently, and they confirmed my suspicion.  Although my Pfaff is 25 years old, a surprising number of these accessory feet are still available, as they're also compatible with much newer machines.