DIY Reversible Copycat Bag

I loved the looks of this Keen Rose City shoulder bag when I first saw it (and every time after). The shoulder strap is very long, giving the bag a funky look, but also making wearing it pretty versatile — it drops from the shoulder, or can be worn across the body. It's also got four very cool, hidden pockets.
What I don't like, though, is the stiff, unforgiving, rubbery feeling of the Keen bag. It's puffy around the edges, and probably wouldn't feel very nice to wear — unless you're really, really into industrial chic. I love my Keen shoes, but I think carrying this bag would be a little like wearing the shoes on my arm.
Fortunately I sew, and this basic design is simple (even, you might say, timeless, except for the lengthened straps). (I know, it's all wrinkled in the picture. 100% cotton — go figure. Yes, the photographer was too lazy to re-iron it for the photo shoot.)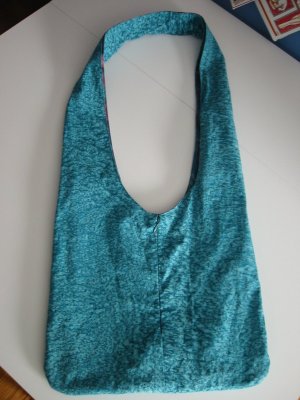 I whipped up this muslin from memory, and was really happy with it. Well, except for the fabric, maybe. That lining is not weaving's finest hour. (But now it is out of my stash!)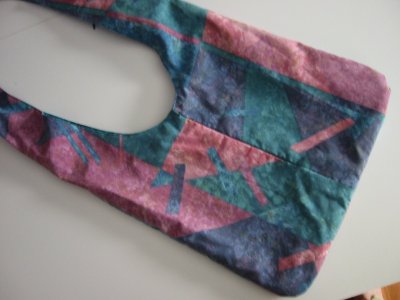 This style was a natural for a reversible bag, and the full lining meant that I could have a total of six hidden pockets. There's just one main pattern piece, which I drafted on freezer paper: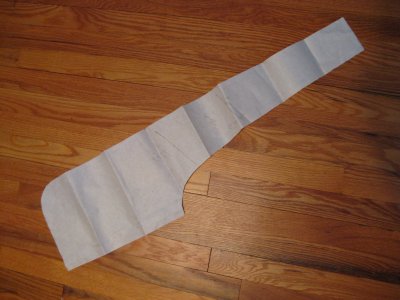 I cut two pieces of each fabric. I installed invisible zippers in the center seams of the main fabric and the lining, and added an extra layer of cloth between the main fabric and the lining in the body of the bag to divide the space into two separate pockets, accessed by the zippers on each side.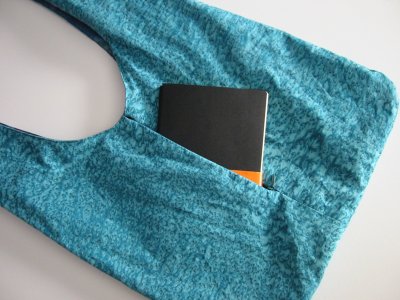 I cut small pockets to insert into the widest part of the shoulder strap, and then put one more invisible zipper in each inner strap seam, making small hidden pockets in the strap.
I assembled the bag like a vest. The shoulder strap is quite wide; much to my surprise, when I saw the Keen bag after I'd made mine, I'd actually gauged its width within an eighth of an inch of the Keen's. I'm not sure how the width works on the original bag, as the strap is fairly stiff. I fold mine in half to wear it, which is very comfortable.
The exaggerated length of the strap is a lot of fun, but not as practical as it could be (especially since I'm short). I'll definitely make this bag again, but will probably shorten the strap a little. And I need to work on my invisible zipper technique; I had some trouble with the short zippers set into the curve.