Vogue 8497, Take Three
Yes, I did it again. It was my spouse's fault. He took one look at my mini-wardrobe storyboard and said "You're nuts. Marcy's right. If you make that shirt again in that cotton, you won't like it." (OK, he was a little more diplomatic, but that's what he meant.)
To refresh our memories, here's Marcy Tilton's Vogue 8497, looking smashing: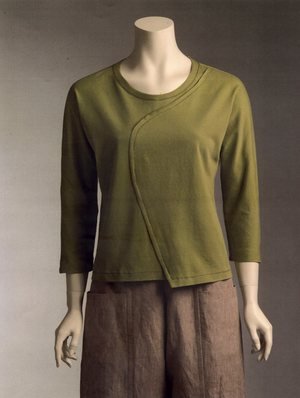 Marcy asserted the critical role of lycra in her comments on PatternReview.com. So I looked for lycra-enhanced knits in our fair village. And elsewhere.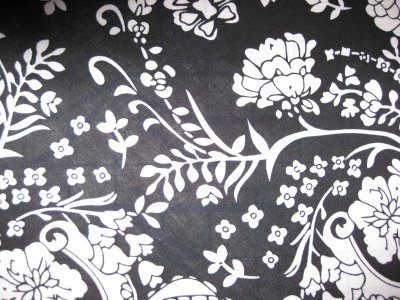 This charming stuff was all I could find. It was cheap; I bought it in two colors. I made the shirt. It fits better (It actually fits me quite well; my dummy, not so much. Must replace dummy.) The fabric (poly/lycra) was awful to work with. (Another note: must learn to sew knits.) Details follow.
First, the alterations: I effectively shortened the sleeves by only one inch, instead of the two I'd taken up previously. I added two inches to the length all around, and took the side seams in to fit my actual body. I bound the collar, folding Vogue's band over to make just a half-inch binding. I was very careful with the neckline, and think I've now got one that is what Marcy meant it to be, at least in terms of its size and shape. (Though not, of course, its width.)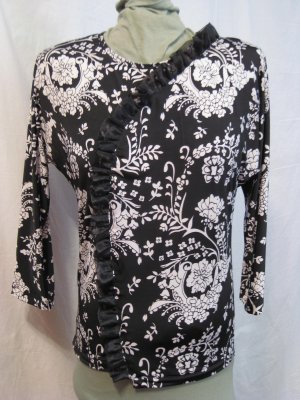 For reasons that are still unclear to me, I also added an organza ruffle. It's made of bias strips, about an inch deep, and folded double. It was quite twisty, so I pinned it to my cutting board overnight, which calmed it down quite a bit. Here's a picture: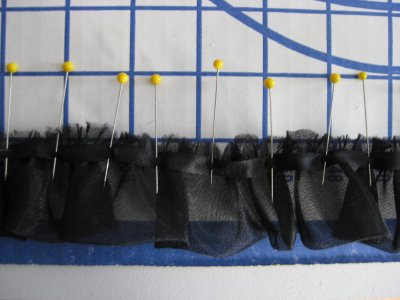 To stabilize and control the ruffle, I zigzagged it to one-quarter-inch twill tape, which worked perfectly. Then I basted it between the overlapping right front and the left front, and assembled the front per Vogue's directions.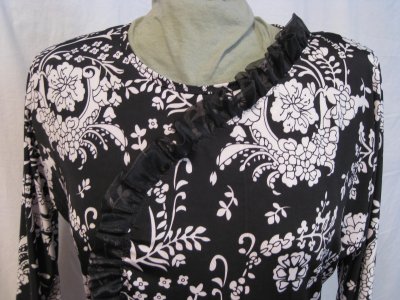 When it was all done, I put it on and walked downstairs to show my spouse. "Good God!" he exclaimed, later claiming that his eyes were too watery from pain to actually see how well it fit. This is not the reaction I expected from a man whose Hawaiian shirt collection has electrified an entire wall in our attic for a decade and a half. Who knew he had a secret streak of conservatism?
He suggested I donate the shirt to the deserving poor, but not before agreeing that it fits very well.
I'm making this one again, as soon as I can get my hands on some cotton/lycra. If anyone comments, references to "pigheadedness" will not be appreciated. This is just reasonable persistence. Really.
Oh, yeah. The storyboard's getting edited. But not tonight.