Vogue 8499 – Marcy Tilton Pants
This pattern is turning out to be one of my all-time favorites. This time I made the pants.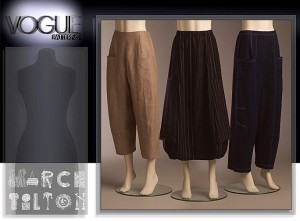 I love, love, love them! Yesterday was cold and rainy, and after running a few errands I retired to the sewing room and whipped them up. Mine are made of the same quirky linen blend I used for the skirt, and it turned out to be a great choice. It's heavy enough so that the pants hold their shape, but it also flows very pleasingly.
(Apologies for the horrible wrinkles on the great pants. I made them, I wore them, I abused them. If you look at this fabric, it creases. I should have ironed them again before the photos, but I did not hesitate when the photographer was free. So the good news is that the pictures are on a real body. The bad news is that the fabric's a disaster.) Side view: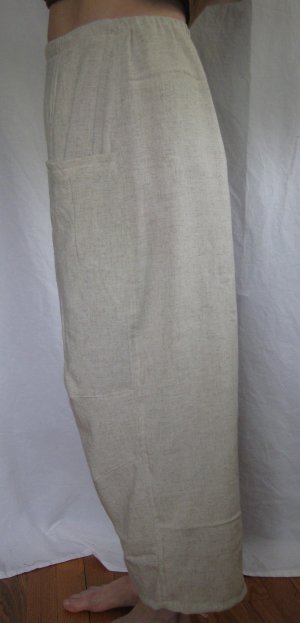 The pattern directions were very clear, and construction is very simple. There's a lot of topstitching, which takes some time, but nothing complex to deal with. However, be forewarned that the sizing is more than a little strange. Theoretically, I should have cut a size 14 (I wear an 8 or 10 in RTW, unless it's really expensive RTW, in which case it's a 4 or 6). BilllieJean's review on Pattern Review confirmed my suspicion that these would run large: I cut a size 8, hedging my bet by cutting the crotch seam as a 10, and it was perfect. They're still plenty big and flow-y, but that's clearly the point.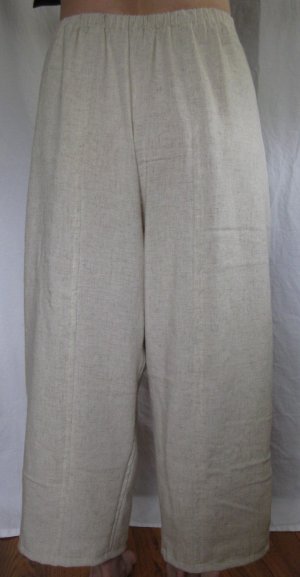 The pants are also peculiarly long. I'm only 5'2″, so it could be argued that anything seems long to me, but I made View B (the cropped pants) and the length is right where I think it should be for View C (the long version). I may add one inch next time, but these are pretty good just as they are. I deliberately chose not to alter the pant leg length. There are wonderful darts that shape each leg, probably bracketing the knees on people of average height. Without a proper alteration, the top dart hits just at the top of my knee, instead of both bracketing it symetrically, with one dart well above, and one well below. I chose to view the darts as a structural detail rather than an accommodation to a joint; I think they look fine on me right where they fell.
I made one change: The waistband is flat in front (nice!), with a casing for elastic in back. I sewed two flat buttons to the inside of the front waistband, and made reinforced buttonholes in the elastic that I ran through the casing. This not only allows for some future adjustability, but also will let me replace worn elastic easily later. This is a simple trick I especially like for anything I wear when traveling.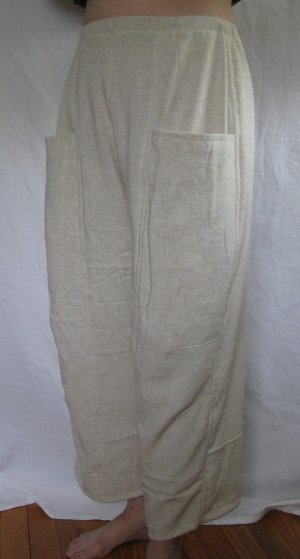 This version was meant to be a muslin, but it's turned out to be very wearable. Eventually, I think I'll have to make them out out of my namesake fabric; they'd be spectacular in silk noil.