Handle Mod for a Straw Bag
My new fuschia dress called for a spiffy bag, but one that still managed to keep the retro theme (at least a bit). Black wicker seemed like the right answer. I didn't like the handles on the bag I found at all, though: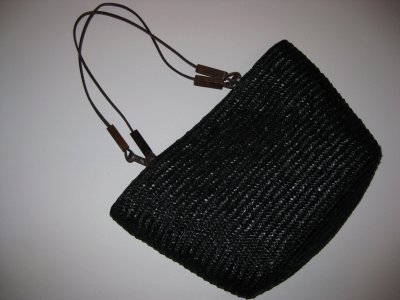 They just didn't fit the mood. The original straps were sewn in place, so I removed them and bought webbing to make alternate straps — plus a little extra for a key chain. I wanted my new straps to be interchangeable, so I also bought a set of rectangular loop holders.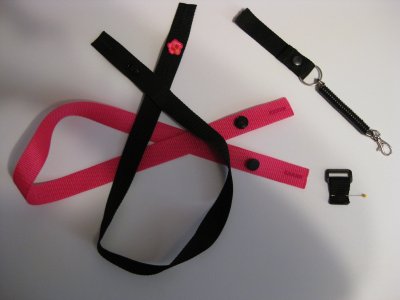 I attached small pieces of black webbing to each of the rectangular loops (you can see one of them in the picture above, at the lower right), and sewed them in place along the top of the bag.
Then I sewed decorative buttons to one side of each strap, and a flat, plain black button to the other side. Final step for the straps? Buttonholes, so that I could loop the ends of the strap through the rectangular holders, and button the strap (on the wrong side) to the flat black buttons.
I love the way the rectangular loops give such a professional look to the bag. Sewn loops just wouldn't have done the job. Here's a close-up look a the finished straps, attached: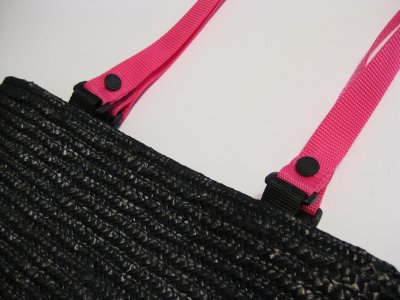 I attached the key chain inside the bag, at the top, toward the front (as I'll wear the bag). I tested several positions, and this one worked best for me. It's placed so that the keys will rest on the bottom of the bag, so that any distortion of the rim of the bag will be minimized.
Here's the bag (with the fuschia straps) on my dummy: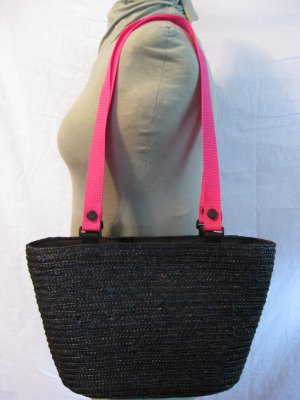 And with the black straps: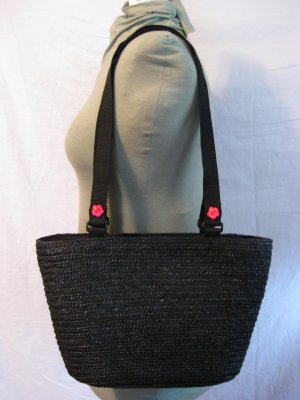 My bag came with an inner pocket sewn into the lining; if it hadn't, I'd have added one. I still may enclose the opening and add a zipper for access; the jury's out on that. In general, I prefer closed bags. This one's designed to hold right under my arm, though, so securing the contents in that way may not be necessary. We'll see.